Main content
Dirty dancing: The Dying Swan in the Thames Estuary
26 September 2016
The inaugural Estuary Festival presents art, literature, music and film in historic and unusual venues along the 'edgeland' of the Thames Estuary on the coastlands of Essex and Kent. Filmmaker Mark Donne has contributed new work Listening with Frontiersman, a five-screen installation exploring the significance of this unique landscape. Mute is one part of this work, featured below, in which dancer Cira Robinson performs The Dying Swan solo - originally created for ballet's first superstar Anna Pavlova by choreographer Michel Fokine - on the mudflats of the Estuary.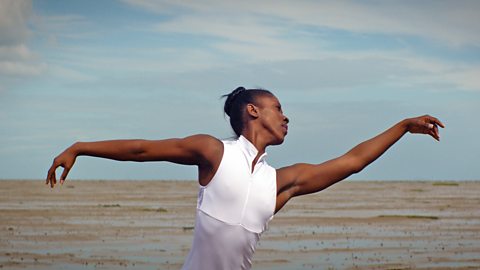 From Mark Donne's film installation Listening with Frontiersman, for the Estuary Festival
The work is installed in the 19th century Coalhouse Fort on Thames marshland at Tilbury, where Christopher Nolan shot the opening sequences for Batman Begins. Other pieces in the installation feature soundscapes by Thom Yorke of Radiohead. Read more about the work at Mark Donne's website.
Estuary 2016 runs until 2 October 2016; various venues.

More Ballet
Members of The Royal Ballet and English National Ballet discuss the origins of classical ballet.

A series of short films demonstrating the physical techniques and movements of classical ballet.
More from BBC Arts
All aboard! Trainspotting at the movies as Inside Cinema takes an in-depth survey of trains on film

An interview with the late author from 2011, featuring rarely-seen drafts and lithographs of the title page artwork