Main content
Six Great British country walks to try this weekend
Inspired to pull on your walking boots and get moving? With over 150,000 miles of public footpaths to explore in Great Britain alone, Brits are spoiled for choice when it comes to country walks – whether you're looking for a toddler-friendly 2K or are warming up for an epic week of hiking.
All the walks listed here are accessible by public transport and can be completed in less than a day. But for those who are feeling adventurous, you'll find that several of these walks follow short sections of much longer routes. Happy walking!
1. English-Welsh border: Capel-y-ffin to Hay-on-Wye (ten miles, four hours)
Follow in the footsteps of travel writer and novelist Horatio Clare by recreating Radio 3's Sound Walk: a ten-mile route from the tiny Welsh hamlet of Capel-y-ffin ("Chapel of the Boundary") to Hay-on-Wye.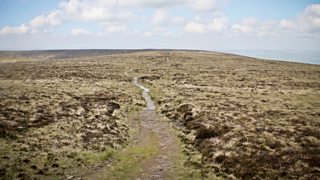 After a brief descent, you'll climb the Black Mountain ridge to join the Offa's Dyke Path, which runs along the Welsh/English border all the way to Hay-on-Wye. Be prepared to see spectacular views of the craggy Brecon Beacons to the west, with the lush fields of Herefordshire to the east. There's a map here.
Offa's Dyke Path is a 177-mile footpath that runs between Liverpool Bay and the Severn Estuary alongside the eight-century Offa's Dyke. Walking the entire path can take up to two weeks. For more information, see the National Trails website.
2. Cornwall: Sennen Cove to Lamorna (12 miles, five to six hours)
Cornish sea views are among the finest in the world, and this beautiful stretch of Cornish coast path is a wonderful place to see them. Starting in Sennen Cove in West Cornwall, you'll walk along high, exposed cliff paths, past the tourist bustle of Land's End and around the coastline to Lamorna.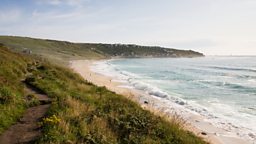 Along the way you'll take in dramatic sea views and spot staggering geological formations including Tol-Pedn-Penwith, a natural land-bridge at Gwennap Head. On a clear day, you may even be able to see the Isles of Scilly.
This is one of those walks that makes you feel that you're on the very edge of the world. What's more, finding your way is easy – just keep the sea on your right-hand side!
This 11.7-mile walk is part of the South West Coast Path, which at 630 miles is the UK's longest National Trail. Walking the entire path takes anything between 30 days and eight weeks, depending on your speed and how often you stop. Find out more at the South West Coast Path website.
3. Kent: Wye to Canterbury (14 miles, six to seven hours)
This is a beautiful walk for any time of year, taking you past rolling meadows, romantic castles, traditional country pubs and the occasional orchard (see the North Downs Way website for a great route description).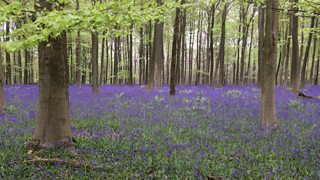 But one of the best times to go is in Spring, when the woods along the path are carpeted with a riot of purple-blue bluebells. If you haven't seen a Kentish bluebell wood in full swing, make it a priority. There really isn't anything to compare with it.
Your final destination is the beautiful city of Canterbury, where an additional stroll in the grounds of the awe-inspiring Cathedral will seem like no burden, even after this relatively long walk.
This 14-mile walk is part of the Canterbury loop of the North Downs Way, a 156-mile path stretching from Farnham to Dover. Walking the full trail takes around 12 days. For more information, see the National Trail website.
4. Peak District: Mam Tor loop (three miles, two hours)
The mighty Mam Tor is a 517m hill whose summit affords some of the best views in the Peak District. The circular route that takes you up and around is one of the most popular in the Peak District: check out the National Trust's great guide.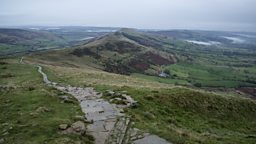 Starting at the Mam Nick carpark (around 20 minutes drive from Buxton), you ascend a stepped path up Mam Tor to the summit, where you'll be able to see for literally miles over the Edale Valley to Kinder Scout and the Derwent Moors. Watch out for skydivers and hang-gliders, who arguably have the best view of all.
5. North of England: Heddon-on-the-Wall to Chollerford (15 miles, six to eight hours)
The well-trodden path from Heddon-on-the-Wall to Chollerford is otherwise known as stage three of the seven-stage walk along Hadrian's Wall. This is a stunner of a day walk that takes you from the urban landscape of Heddon to dramatic open countryside in a matter of hours.
History lovers will love this route, which passes Roman ruins, ancient battlefields and, at Planetrees, a 15m section of Hadrian's Wall itself, which was built in the second century AD to keep marauding "barbarians" at bay. There's a map and a great route description on the Walking Englishman website.
This walk represents just under a fifth of the 84-mile, coast-to-coast path along Hadrian's Wall, one of Britain's oldest man-made landscape features. Walking the entire route will take you somewhere in the region of a week; find out more via National Trails.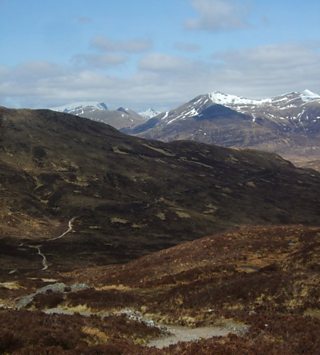 6. Western Scotland: Kingshouse to Kinlochleven (nine miles, four to five hours)
Be warned: this walk is not for the faint-hearted, in any sense. But then what else would you expect from a route that includes a 300m ascent known as "the Devil's Staircase"?
The walk may be challenging, but there's ample reward in the dramatic scenery of the Glencoe mountains. Once you've struggled your way to the top of the Devil's Staircase (marked by a cairn, and the occasional set of worn-out boots) there are incredible views to be enjoyed, before a long descent to the village of Kinlochleven gives you the chance to exhaust an entirely different set of muscles.
This walk forms part of the West Highland Way, which stretches for 96 miles between Milngavie (near Glasgow) and Fort William. Walking the complete route takes six to seven days. For more information, visit the West Highland Way website.
Join novelist and travel writer Horatio Clare as we step back from the busy hurly-burly of life and engage with natural sounds and meditative thoughts inspired by the gentle rhythm of walking, in one of the most beautiful landscapes in Britain.