Main content
Memory Tapes - October 2017
7th Birthday CD
11th October 2017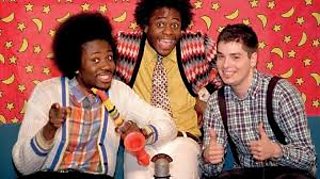 Today's Memory Tape is a gift from an auntie to a nephew. A 7th birthday present and a music education.
I'm a Geordie in exile in Glasgow and I created this memory tape for my step-nephew Adam's birthday at the end of September. He's just started liking music in the last wee while, and when I was down in Northumberland over Easter he was telling me not to answer my phone because he liked my ringtones (Prince and The Clash) and was giving his air guitar some serious effort! This was interesting because he was looking at me as if I was an alien because I don't have any Justin Bieber or Little Mix on my computer!
So I decided as a step-Auntie it was my responsibility to both encourage his new interest and try and show him there was more music than Justin Bieber et al. So I made him his own CD with pictures of him on the front and back cover as a birthday present. I called it his 7th Birthday CD so he would always have it to keep and (hopefully) listen to as he gets older.
Adam is a bit of a live wire and doesn't sit down for long so it needed to be stuff he could dance to and play his air guitar. He mainly listens to music on his tablet so Future Islands 'Seasons (Waiting on You)' just had to be on there for the dance.
I sent it to him through the post and when he got home he put it straight on and to quote his mam, he was "jumping around like a loony". He got one of his friends around to join in too.
7th Birthday CD
Get Up | Young Fathers
Monster | The Automatic
All My Life | Foo Fighters
Gold on the Ceiling | The Black Keys
Should I Stay or Should I Go | The Clash
Atomic | Blondie
Seasons (Waiting on You) | Future Islands
Seven Nation Army | The White Stripes
What'll It Take | Graham Coxon
Systemagic | Goldfrapp
My Number | Foals
Standing in The Way of Control | Gossip
London Calling | The Clash
Nellie the Elephant | The Toy Dolls
1999 | Prince
Memory Tapes at 6 Music Live At Maida Vale
All week Lauren Laverne has been chatting to the stars of 6 Music Live about the music that shaped them and asking them what tracks would appear on their Memory Tape. Watch the videos below and discover the tracklistings on each act's tape.
Robert Plant's Memory Tape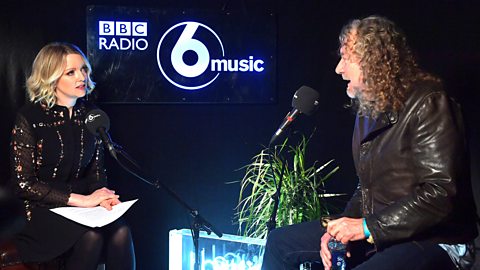 The former Led Zeppelin star chats to Lauren Laverne about his Memory Tapes.
We conclude our week of 6 Music Live Memory Tapes with rock and roll royalty, Mr Robert Plant.
His selection of songs reflect his musical development from a young age, as well as the fact he remains a huge music fan.
Tubby The Tuber - Danny Kaye

Love Me - Elvis (Robert sang this WITH ELVIS because "what you going to do?")

Eighteen Hammers - Johnny Lee Moore

Don't Start Me Talking - Sonny Boy Willamson ("it swings like crazy")

Somebody To Love - Jefferson Airplane (Grace Slick "gave me a kick to immerse myself more in that idiom..that early psychedelic rock")
Team Jean (we love this pair)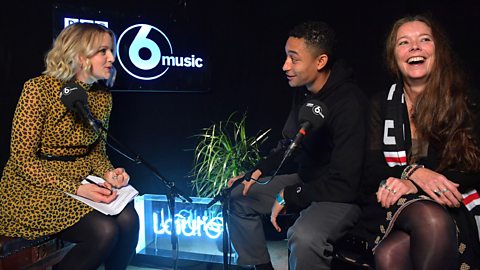 Loyle and his mum Jean chat to Lauren Laverne about their Memory Tapes.
Thursday's Memory Tapes is all about family, as we welcome Loyle Carner and his mum Jean to the studio at Maida Vale.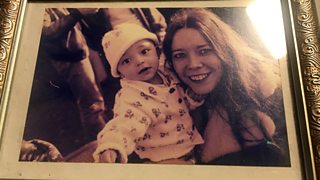 Jean contributes to his Mercury-nominated album, talking about her "scribble of a boy" who "was and is a complete joy."
A track that reminds Jean of the time Loyle was born: Bill Withers - Lovely Day
A track that reminds Jean of Loyle as a kid: Jamiroquai - You Give Me Something

Kitchen disco track: Earth Wind and Fire - Boogie Wonderland

A memorable track: David Bowie - Starman

A track that means a lot to Loyle and his brother Ryan: Kanye West – Heard 'Em Say
alt-J's Memory Tape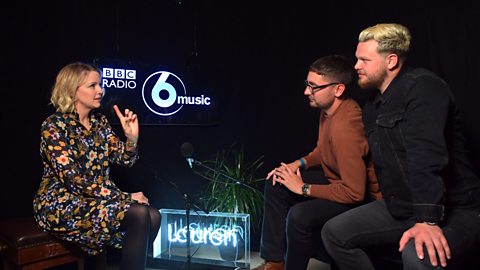 The pair talk to Lauren about their favourite music and their love of the Mercury Prize.
Gus and Joe from alt-J share a band Memory Tape, ahead of their live performance at Maida Vale on Tuesday.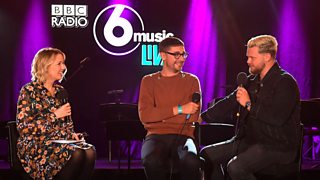 "We were all into different kinds of music growing up - metal, folk, hip hop, indie - but when we met at Leeds it was unusual, cerebral bands like Radiohead and Metronomy that we bonded over. When the latter were nominated for the Mercury Prize in 2011 we all went to the betting shop to watch Joe lay a fiver on them to win, then went to our friend's mum's house in Cambridge to watch the ceremony as we didn't have a TV. Both these songs are in interesting time signatures which really adds to their complexity and allure. The final three songs are individual choices of music we were into growing up that made us want to start bands."
Gus' Most Treasured Record: Radiohead - 15 Step

Metronomy - Corinne

Kings of Leon - Happy Alone

PJ Harvey - In The Dark Places (Thom's pick)

Souls Of Mischief - 93 'Til Infinity (Joe's pick)
Stuart Braithwaite's Memory Tape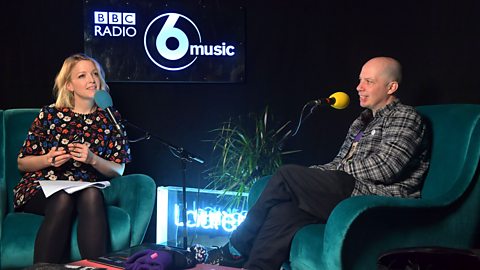 The Mogwai star chats to Lauren Laverne about Joy Division & more music that inspired him
Tuesday's Memory Taper is Stuart Braithwaite of Mogwai.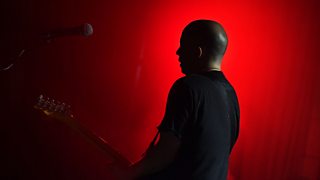 The band have just released their ninth album Every Country's Sun and perform live at Maida Vale ahead of a European and North American tour.
Most treasured record: Dinosaur Jr - Just Like Heaven
"One of my favourite American bands covering one of my favourite European bands. Possibly even better than the original."

Blind Willie Johnson - Dark Was The Night. Cold Was The Ground
"I first heard this on John Peel and later discovered that it was included on the Younger Spacecraft. One of the most beautiful pieces of music made on Earth and now in space. My dad was an astronomer so this has extra significance."
Bardo Pond - Tommygun Angel
"One of the most underrated bands of all time. They were and are a huge influence on Mogwai and have become really good friends too over the years."
Aphex Twin - Girl/Boy
"I was absolutely blown away when I first heard this and it really reminds me of getting in to electronic music."
Joy Division - No Love Lost
"Joy Division are probably my favourite band and that this was on their own label really makes me appreciate it even more."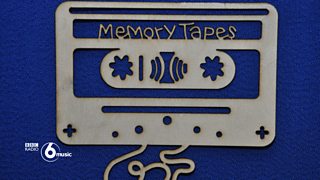 Did you ever make a mix tape for somebody? Did they ever make one for you? We've had mixtapes for friends and from loved ones, the soundtrack to breakups, starting bands, songs played in shops to self-help playlists. We want to hear your Memory Tape, simply email us with the track-listing and story behind it: lauren.6music@bbc.co.uk
First plays, latest new music online, emerging talent & new tunes from returning favourites.
The Desert Island Disco is your opportunity to create the perfect dance floor soundtrack. Send us 10-15 of your best party tracks, and check out what previous listeners have selected.