Main content
Warning: This Book May Change Your Life!
Jeremy Howe, Radio 4's commissioning editor for drama and fiction, explains how the quiet wonder of Primo Levi's masterpiece convinced him to bring the book to a new audience in the form of a major new drama from the network.
Primo Levi's The Periodic Table is a quiet book and also a masterpiece. It is a collection of short stories charting a way through the author's life and experiences as a working chemist in Italy and Poland through the course of the 20th Century, and a reflection on those experiences. Do not be deceived by its quietness - because Levi led no ordinary life. He was a Jew in fascist Italy, he fought as a partisan against Mussolini and he was deported to Auschwitz. By a miracle he survived the Holocaust, and resumed his career as an industrial chemist in his native Turin. He is also one of the greatest Italian writers of the last hundred years.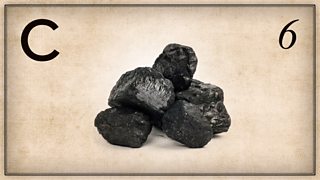 Carbon, the final chapter
The book is elegantly, brilliantly structured around the chemical periodic table that orders all the elements of the universe, that are the building blocks of everything. He uses it as a prism to explore his life. Like James Joyce's Dubliners it doesn't have a narrative as such, it certainly doesn't have a plot, but it has a powerful unity, and it casts an unforgettable spell.
It is one of the most extraordinary books I have ever read, and it is a book that ambushes you. When I read the last story, Carbon, I had one of those rare moments when I thought – fleetingly – that I had a better understanding of life and my place in the order of things. All Levi is doing is explaining what makes up the full stop at the end of the book that you are reading. It is breathtakingly simple. I remember where I was, my hand shaking as I read it, thinking: "Wow! So that's what it all means." It made me look at my life differently.
It is a real pleasure to be able to bring this extraordinary book, a book that has been hailed as the greatest science book ever (by the Royal Institution, no less) to the Radio 4 audience, and we are attempting to do something different with a book that in my view requires that you do something special with it.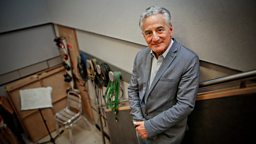 Henry Goodman, who plays Primo Levi in the drama
We are dramatising The Periodic Table in 11 chapters, each named after chemical elements, each chapter a bite sized chunk. They vary in length from 15 minutes to an hour. The series will follow the chronology of Primo Levi's life as he tells it in the book, but like any book of short stories the order is not crucial. I don't know about you, but whenever I read a collection of short stories I start with the first and then tend to read the shortest stories first or the ones with the most intriguing titles. In The Periodic Table I went straight to Vanadium because it was an element I had never even heard of – Vanadium is one of the most memorable short stories I have ever read. I then get the appetite to read on, I tackle the longer ones, I go back and reread the opening ones. I create my own book. This is what we want you to do with the Radio 4 dramatisations.
All the stories will be on air, starting on Tuesday 19 July at 9.45am. Over the weekend of the 23/24 July they will be dotted all over the schedule, with the wonderful actress Janet Suzman guiding you along the way. If you miss one of them you can go to the Radio 4 website where you can listen again, or download them all as a podcast from the first broadcast onwards. You can create your own order, your own periodic table. It is, I believe, the first time anyone has done such a thing with a collection of short stories.
I warn you, Primo Levi's The Periodic Table will ambush you, it may even change the way you see life. It will be, we hope, unforgettable.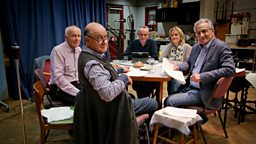 The cast at a recording of Primo Levi's The Periodic Table
Janet Suzman presents a short feature about Primo Levi's life and writing.