Main content
Antiques Roadshow is coming to Crathes Castle on Sunday 1 July
What story will you bring?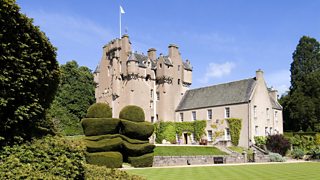 BBC One's Antiques Roadshow will be filming at Crathes Castle near Aberdeen on Sunday 1 July.
Fiona Bruce and the team of Antiques Roadshow experts will be waiting to welcome you, so dust off your family heirlooms and dig out those car boot bargains and bring them along for free advice and valuations to visitors.
Doors open at 9.30am and close at 5pm. Entry to the show is free, everyone is welcome, and no tickets or pre-registration is required. For parking arrangements please check our website.
Visitors are welcome to just turn up on the day but they can also share their stories about the special items they are bringing along using Share Your Story on the Antiques Roadshow website.
Alternatively, email: antiques.roadshow@bbc.co.uk or write to Antiques Roadshow, BBC, Whiteladies Road, Bristol BS8 2LR.
Public transport
Bus
Buses 201 and 202 stop at Crathes Castle from Aberdeen and Balmoral via Banchory; there is a service approximately every half hour.
From 10:00 there will be a free, accessible Antiques Roadshow shuttle service running from the bus stop on the A93 by The Royal Deeside Railway to take guests up to the castle.
Follow this link to the bus timetable.


Trains
Stonehaven Railway Station
(14.4 miles from location)
Station Road
Stonehaven
AB39 2NE
TEL: 0800 912 2901
Portlethen Train Station
(14.2 miles from location)
Portlethen
Aberdeen
AB12 4JS
Car
500 free parking spaces on site, plus overflow parking in The Guide Field. The free, accessible shuttle service will stop at The Guide Field if it's used on the day.
Please note that between 6am and 6pm there will be a speed restriction of 40mph on the A93 between Crathes village hall and Milton of Crathes.
If you are using SatNav please use the postcode AB31 5QH which will direct you to the correct castle entrance.
Dogs
Dogs are not permitted in the walled gardens where the Antiques Roadshow event is taking place, but are allowed on leads in the main grounds. Please leave your dog at home if you can.
Guide dogs are welcome in all areas.