Main content
Podcasters pick their favourite podcasts
Five podcast presenters have picked their favourite podcasts for you to enjoy. They are:
Vic Spence from BBC Radio 5 Live's Fit & Fearless podcast
Lydia Bright from 'The Brights'.
Tonali Shoneye from the Receipts podcast.
Gabriel Ebulue who presents the 'Three Track Podcast'.
Chris Warburton presenter of 5 Live's End of Days podcast.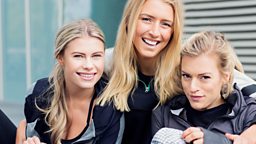 Vic Spence is one of the co-hosts of BBC Radio 5 Live's Fit & Fearless podcast.
Vic's pick is Ctrl Alt Delete, in which presenter Emma Gannon talks to guests about their relationship with the Internet'.
Vic says: "It's a girl who gets loads of different guests on and she talks about hot topics and people who are experts in their areas.
"My favorite episode is one about social media, I think this is really big at the moment and is really affecting a lot of people so it's amazing to hear from people who have that huge following to share the reality of it."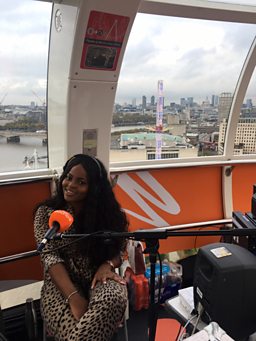 Tolani Shoneye is one of the presenters of The Receipts podcast - available from BBC Radio 1Xtra.
Tolani's pick is DISUNOMICS, hosted by Ayo Disu, described as 'making economics relevant, relatable & entertaining to the general public!'
Tolani says: "He talks about important stuff like credit, and buying a house and things like that.
"He tells you the important things you need to know about economics and money and savings but in this language that you understand, and you're like 'OK cool I get it now'.
"I recently went freelance and I had no idea, and I have learnt so many tips from his podcast, how to ask about money, what to invest in - it's a really good way to get people into it."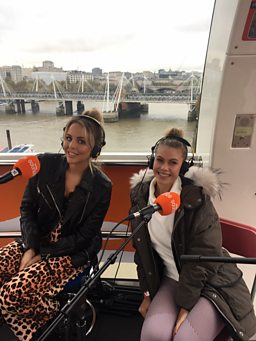 Lydia Bright is part of 'The Bright's' podcast, covering the lives of her and her family.
Her pick is Katie Piper's Extraordinary People - described as 'stories that will inspire you, making you laugh and cry'.
Lydia says: "I'm really enjoying that, it's very inspirational, talks about people who've gone through real traumas and how they've come out the other end.
"It just makes you realise what incredible people are out there and how fortunate we all are.
"I DM'd Katie to tell her how amazing her podcast is because it's very new, I've listened to every single episode.
"The stories she's sharing, and the way that they're told so beautifully, although they're really traumatic stories and it's heartbreaking to hear them... to hear what's happening now and how they've overcome things, trying to make the world a better place based on their experience, it's just really an amazing podcast to listen to - really uplifting."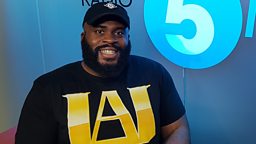 Gabriel Ebulue presents The Three Track Podcast where he invites guests to come on and discuss three of their favourite music tracks.
He has picked Worst Foot Forward, which is 'the podcast that celebrates failure'.
Gabriel says: "They invite guests on, and they have to find the worst of something - so when I did it, I did the worst music videos and we found a lot. I love the idea because the research they put into it is amazing."
Presenter Ben van der Velde says: "Every time we put on the news we thought it was really scary and really depressing so we thought we'd start mining through history and modern culture to find some heroic failures and enormous idiots.
"Heroic failure is part of our creative process anyway so we wanted to look at other heroic failures to feel better about ourselves."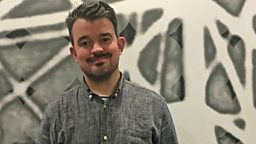 Chris Warburton presents BBC Radio 5 Live's End of Days podcast, about the British people who travelled to Waco, Texas, to join a cult.
Chris picked The Dollop - presented by Dave Anthony and Gareth Reynolds.
He says: "Essentially one of them picks a topic from American history each week and studies it and tells the story to the other one. They're both comedians so it's very funny and they've picked everything you can possibly imagine.
"They take on the Iraq war, loads of stuff. It's historical and very, very funny as well.
"Like any good podcast you become part of the club in a way, there's that intimacy between you and them, and the more you listen to it the more you understand their sense of humour, you're like the third person in the room, and you look forward to what they're going to come up with next."
See more podcasts from the BBC