Main content
Stand up if you dare
This is a challenge to all BBC listeners and viewers to have a go at stand-up comedy, all in aid of Comic Relief.
Welcome to 'Stand up if you dare…'
This is a challenge to all BBC listeners and viewers to have a go at stand-up comedy, all in aid of Comic Relief.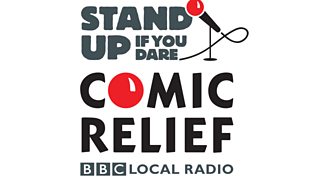 Welcome to 'Stand up if you dare…'
Two years ago we asked a presenter from each of the BBC's thirty-nine local radio stations to take to the stand-up stage and try to make a room full of strangers laugh. They took up our challenge – with mixed results it has to be said...
This time around we've asked our listeners to have a go! Each of the twelve BBC regions is holding a special 'Stand up if you dare' night of comedy where some of those who volunteered get the chance to perform in front of a packed house.
Each BBC local radio station will have an advice afternoon beforehand for all its local volunteers. They'll offer tips and hints on what works and what doesn't, public speaking and the finer points of stand-up. They'll have regular stand-up comedians in attendance as well as a few local radio presenters, all offering advice.
How can I get involved and sponsorship.
Our events are now all fully subscribed, so you'll be relieved to know you don't have to take to the stage.
But there are still lots of ways you can contribute.
Why not help the brave souls who have agreed to 'stand up if you dare' and try stand-up comedy for the first time. You can support/sponsor them now.
Alternatively there are lots of ideas of ways you can do your own fundraising activities at: www.rednoseday.com
Take a look at some of our brave volunteers 
If you're brave enough or lucky enough to be one of the people taking to the stage, make sure you get your family and friends along to watch, but equally get sponsored. Go and join the 'Stand up if you dare' team page. You're about to do something very brave. Get all your friends, family and work colleagues to sponsor you, you deserve it!
Terms and Conditions
By volunteering to be part of 'Stand up if you dare' you are not guaranteed a performance place at the event.
If the event is oversubscribed a draw will be made with performers' names being picked out of a hat, or you may be selected by a comedy judging panel.
To qualify for the performance you must not have performed stand-up comedy more than five times before.
In volunteering to perform you will secure sponsorship via the Red Nose Day website and raise money for Comic Relief.
The material you perform will be for a family (PG) audience.
The BBC is not liable for any libellous, slanderous statements you may make in your performance.
There is no guarantee that your performance will be broadcast, but by agreeing to take part you are agreeing to be filmed and interviewed for any BBC outlet.
To perform on the night you need to be available to attend one of the advice afternoons.
There will be no payment for your performance or expenses to cover any costs incurred.
There's something huge and hilarious on the horizon and it's all happening on Friday 13th March 2015.