Main content
French Onion Tart
Makes one 12inch tart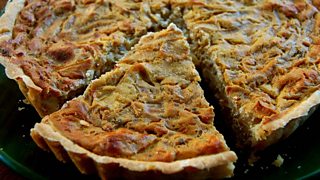 Serves 4
1 pk good puff pastry
2 large onions
3 sprigs of thyme
1 sprig of rosemary
400ml double cream
4 egg yolks
3 whole eggs
Pinch of nutmeg
Salt & pepper
Method
Roll out your puff pastry and line your tart ring.
Line with grease proof paper and fill with baking beans to prevent the pastry from rising.
Bake the tart at 160C or gas mark 3 for 35 minutes then leave to cool for another 35 minutes.
Remove paper and beans when cool and leave to aside.
Slice onions and chop the thyme and rosemary, place into a large pan and cook with a little butter and vegetable oil until golden.
Season well and add the nutmeg, leave to cool.
Crack all the eggs and mix with the cream, pour over the cool onion mix then transfer into the baked tart case.
Place the tart into the oven again at 160C and bake for 25 to 35 minutes.