Main content
Naming the Great Detectives
Radio 4 is celebrating 30 years of the hard-drinking, music-loving, defiant detective John Rebus with three programmes celebrating Ian Rankin's creation.
The name Rebus, as we'll find out, relates to Rebus's own skills - so what's behind his name, and those of our other favourite detectives?
John Rebus
Ron Donachie as Rebus in Radio 4's latest adaptation
A "rebus" is another word for a word picture puzzle or pictogram.
Writer Ian Rankin's first Rebus novel was titled Knots and Crosses: in it, his detective receives cryptic anonymous letters which lead him to the murderer.
As Rankin sat in his Edinburgh home plotting the book, he decided his hero should have a name linked to puzzles themselves: so Rebus was born.

Miss Smilla
One of the forerunners of our obsession with everything Nordic, the Danish author Peter Høeg created the self-contained and fascinating amateur detective Smilla Jaspersen, for his novel Miss Smilla's Feeling for Snow.
He actually invented the name but gave it a big explanatory backstory in the novel - ready?
The novel explains that "Smilla" as a shortened version of the name "Smillaaraq".
This is a combination of the Greenlandic name Millaaraq (which may possibly mean "the hum of little insects") and the Danish words for "mild" and "smile" which seemed to suit the contented, happy baby.
Still with us?

Morse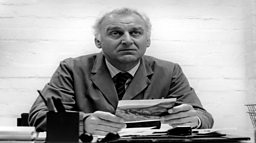 John Thaw as Inspector Morse in the TV adaptations of Colin Dexter's books
You'd expect something gnomic from Colin Dexter, creator of the Inspector Morse books. He was a cryptic crossword fan and named his grumpy, opera-obsessed detective after Jeremy Morse, a crossword setter.
Morse's first name, Endeavour, was kept secret for years and fans were delighted when it was revealed. But why Endeavour? Well, when Dexter was at Oxford one of his favourite walks was along the river, opposite the home of the 22nd Oxford Sea Scout Group, named T.S. Endeavour. Ta-da!

Miss Marple
The origins of the name Miss Jane Marple are as much a mystery as the schemes in which the lady herself delights. Agatha Christie knew many "Miss Marple"s and wanted to celebrate older women as intelligent and observant, rather than being dismissed as fussy maiden aunts, as they mostly were in the literature of the time.
Although there's no definite proof, Agatha Christie spent time at her sister Madge's home, Abney Hall in Cheshire, and used many of the locations around there in her books. A family named Marple lived at nearby Marple Hall, and to get to Abney Hall from her home in Devon, Christie also had to pass through Marple station.
Perhaps that was enough, dear? (Peers over knitting with a sharp but kindly eye...)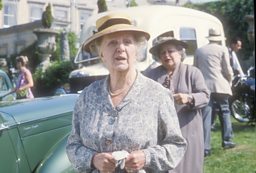 Joan Hickson as Miss Marple

Sherlock Holmes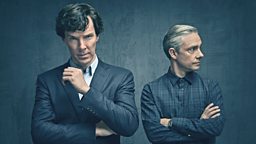 Benedict Cumberbatch as Sherlock Holmes and Martin Freeman as Dr. John Watson
This one is no less complicated. Sherlock is Old English and actually means "bright lock of hair". However, Sir Arthur Conan Doyle tried out a number of names before settling on Sherlock.
He originally called his detective Sherrinford or sometimes Sherringford Hope. Hope was the name of a whaling ship on which Conan Doyle had worked. His wife hated, not Sherrinford, but Hope, and suggested he changed it. He went with Sherrinford Holmes.
The Sherrinford Holmes stories were rejected by a few publishers so Conan Doyle tried again with a new name - Sherlock Holmes. And at last now he is being played by somebody with a straightforward name like Benedict Cumberbatch.

So there we are…You know our methods, apply them! Right. We're off to drive around in a vintage car, develop a drink problem and annoy our superiors by always being right.
You can listen to a new dramatisation of Rebus: Fleshmarket Close on the Radio 4 website.
Further Listening on Radio 4
Ian Rankin reads from his teenage diaries, which include forays into poetry and punk rock.