Main content
5 tips for better living from rock stars and artists
17 January 2018
Fancy living like a rock star or cutting edge artist?
No, not the part where they're in the studio or on stage, but the bits in between: the leisure pursuits that keep some of our favourite creators' minds nice and peaceful.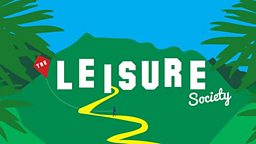 In 6 Music's The Leisure Society, Gemma Cairney has been speaking to the likes of Laurie Vincent of Slaves, Kelley Deal of The Breeders, Tracey Emin and more about their favourite pastimes and hobbies, and from her relaxing talks we've unearthed a few top tips for better living. Each episode of The Leisure Society is available as a podcast (see below), so you can download them right now.
1. How to dig your garden the easy way… according to Cosey Fanni Tutti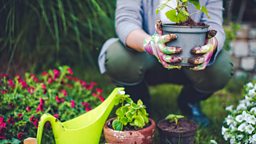 Want to get your green fingers working without putting your back out? Don't worry - artist, author and Throbbing Gristle member Cosey Fanni Tutti has a way round it.
This is what it's about, it's about the earth we're on

Cosey Fanni Tutti, Throbbing Gristle
"This is what it's about, it's about the earth we're on", she muses, before dishing out some practical gems.
"If you're doing veg and you don't want to be out there in winter like me, put black polythene down on your beds," she suggests.
"Weight it with bricks, leave it and then you don't have any deep, deep digging to do in spring. You can just turn it over a little bit with the rake and it makes it really pleasurable."
Throbbing back pain averted.
2. The amount of yoga you have to do to change your life… as calculated by Goldie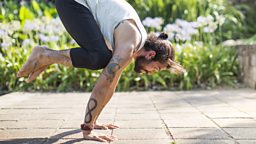 Bought a mat? Got the posh yoga-wear? Yet despite being a bit more flexible you're not really feeling that yoga has improved you on a mental or spiritual level?
I wanted to reinvent myself as a human being

Goldie
Fear not, says drum and bass titan Goldie, it will come but you've got to commit.
"I didn't start yoga until I was 44. I've been practicing for four-and-a-half years, and now finally I'm up to four sessions a week again," he admits.
"One is just not good enough, two is getting away with murder, three is 'Yeah!', but when you reach four a week you're made up! I wanted to reinvent myself as a human being and the yoga just comes with it." Namaste.
3. How to perfect your knitting… by Kelley Deal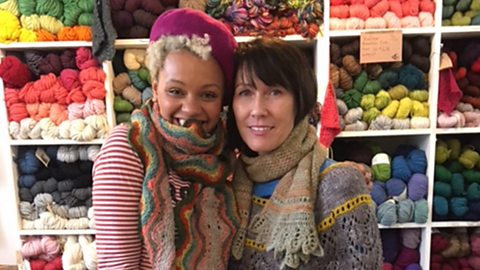 Kelley Deal tells us how she discovered a passion for knitting
Guitarist Kelley Deal is a self-confessed knitting obsessive, taking her yarn on the road with her at every opportunity.
Miss Marple is a thrower. I'm a picker.

Kelley Deal, The Breeders
However, despite the laid back rock'n'roll environment in which she makes her jumpers, she's a stickler for neat knits:
"The finishing is very important: hide your ends!" she commands. "Press that out, do your blocking, get the lint off, that kind of stuff. Make it nice and sweet."
She also suggests breaking with the traditionalists if you want to get a serious knitting habit going:
"I use the continental stitch. it's called 'picking' – I don't know why – versus 'throwing'," Deal explains. "The throwing I find it really weird, you hold your yarn with the other hand and you knit like Miss Marple. She throws, Miss Marple is a thrower. I'm a picker."
It's no mystery who's the coolest knitter.
4. The perfect place for a weekend away… as recommended by Tracey Emin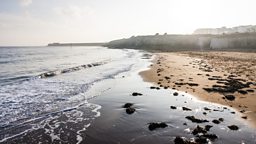 The acclaimed artist Tracey Emin loves her home of Margate so much that if she wasn't making installations she'd probably be working for the Kent seaside town's tourist board.
Margate is really sexy!

Tracey Emin
"Margate has this energy about it and I've always said to people: 'You want a nice weekend, go to Brighton. You want a really dirty weekend, come to Margate because you're going to have one!'" she declares.
"There's this energy, this excitement here. Now [theme park and gig venue] Dreamland is back, it's so cool to come here for a weekend. Go on some rides, have some fish'n'chips, roll around on the sand, go for a swim."
What makes the place extra special now, according to Emin, is the fact it's been neglected as a holiday destination for so long.
"It's really brilliant but it's still old fashioned in a way," she explains. "Because it hit the doldrums in the 90s it's kept a lot of integrity. Both structurally with the architecture and it's still cheap enough and good enough for a lot of young people who are creative to want to move down here. Margate is really sexy!"
5. How to paint a picture in a hurry… the Slaves way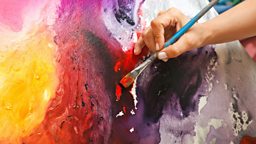 As one half of Slaves, Laurie Vincent doesn't always have enough time for his second artistic passion: painting. No problem, he's got technology to help… although it's a bit more analogue than you might expect.
I dry acrylic paints with my hairdryer

Laurie Vincent, Slaves
"When it's really cold, and I'm being impatient, I dry acrylic paints with my hairdryer," he explains.
"If there's one bit that I really want to carry on working on – because I use a lot of flat blocks of colour – I'll just dry it with the hairdryer then I can go over it again."
However, before you plan to paint your masterpiece in a day, just double check you're using the right materials.
"It doesn't work with oil paint," he cautions. "I've had one on a painting called Ugly Club which has been wet for two months!"
The Leisure Society downloads