Main content
Bruce Springsteen On Broadway text to win competition
***This competition is now closed***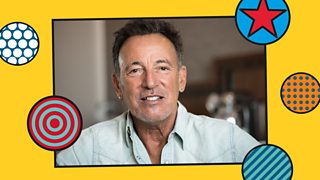 Event Date: 15th - 19th November 2018
Venue: Walter Kerr Theatre, New York City
The Package
You can win one of two pairs of tickets to see Bruce Springsteen On Broadway at the Walter Kerr Theatre in New York City.
You will fly upper class, leaving London Heathrow at 20:05 on Thursday 15th November and you will arrive back at Heathrow at 07:55 on Monday 19th November.
The show itself will be on the Saturday night.
You'll stay three nights in a top New York hotel – with bed and breakfast.
Transfers to and from the airport in New York will be via private limousine.
Competition closes at 9am on the 13th of November 2018.
Privacy Notice
Your information (mobile phone number and amount of donation) will be collected by Fonix Mobile Limited on behalf of BBC Children in Need and will only be used to process your donation, provide receipts, process any refunds as necessary. Our legal basis for this processing is that it is in our legitimate interests to fundraise (and we don't believe this unreasonably impacts on your rights and freedoms) and if you are a winner that the processing is necessary for the fulfilment of a contract. Any additional information provided as part of the Gift Aid declaration will only be used for the purpose of our legitimate interests (and we don't believe this unreasonably impacts on your rights and freedoms) of claiming Gift Aid and in order to help analyse our income. We will retain your information in accordance with our retention policy, an extract of which is available on request. To find out more about how we will use your information, including how we use it if you sign up to keep up to date about children we support and fundraising news, see our website or contact pudsey@bbc.co.uk.
Children in Need 2018
A celeb-filled day of fun dedicated to the amazing work of Children in Need.

Find out all about Children in Need, including how your money improves children's lives.

Make a donation to Children in Need 2018 (By clicking this link you will be moving to the BT MyDonate web page. Please note that this is subject to the BT My Donate Terms & Conditions and Privacy Policy).