Main content
Sarah Siddons visits the Norwich Theatre Royal
"Celebrated actress suffers from exhaustion". Today it is almost a tabloid cliché, necessitating a restorative stay at the Priory or somewhere similar.
For a Regency actress, famed as a Shakespearean performer, there was nowhere to hide from the rigours of life on the road.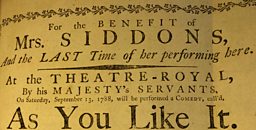 Courtesy of the British Library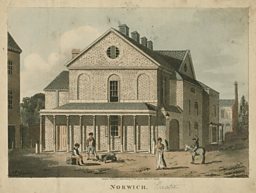 Theatre Norwich (c) Folger Shakespeare Library
In the late 18th century, as provincial towns grew larger, some began to desire a permanent playhouse with a resident theatre company.
By the mid-1780s, at the time she came to Norwich, she had firmly established herself in London as a star of the stage.
A select few were issued with 'patents' by act of parliament to allow them to take on the name 'Theatre Royal'.
In 1768, Norwich was the second provincial venue in England to secure this coveted title, Theatre Royal, Norwich. This granted it the same rights as established London venues such as Covent Garden and Drury Lane, the rights to perform all drama, Shakespeare included.
It was a sign of prestige, meaning that the provincial Theatres Royal, (as they became known) attracted the top London stars when they went on tour.
And so it was that London stars began to arrive on the Norwich stage. Stars such as the famous female performer Sarah Siddons, who played the role of Hamlet several times – as well as Juliet, or Lady Macbeth.
In 1788 a theatre playbill, now lodged in the British Library, advertises her performance playing Rosalind in "As You Like It" in what the playbill says will be her final performance at the theatre.
On it there is an explanation why this celebrated performer is choosing to appear in the play only.

It is not only the pop stars of today who plead exhaustion. The life of an 18th century actor was testing and required a robust constitution. Touring involved lengthy, sometimes dangerous, and uncomfortable travel by coach across the country. Performances in drafty theatres could also take their toll.
Here Siddons is managing her energy and her audience expectations. But it's a careful calculation as the company's livelihood depended on the receipts at the door.
She's best known for her Shakespearean roles, and Rosalind in "As You Like It" is the best showcase for her talents on this particular evening.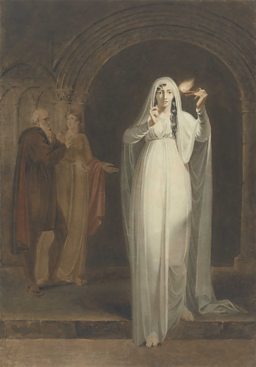 Sarah Siddons in Macbeth. Credit: Yale Center for British Art, Paul Mellon Fund.
First black Shakespearean actor Ira Aldridge plays Norwich amid controversy
Touring prominently around the country at this time, and particularly in the East of England between 1847 and 1848, was the first black Shakespearean actor, the American Ira Aldridge.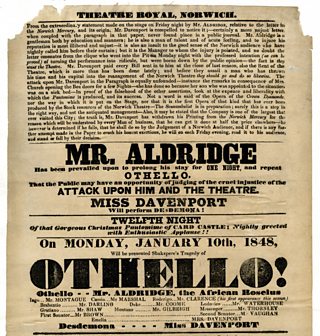 Othello playbill (c) Norfolk Heritage Centre
He was later referred to as the African Roscius, after the famous Roman actor of the first century BC
In this playbill we see Ira's reputation being defended in the face of criticism from certain quarters of the audience. Ira is asked to do an extra show at the Theatre Royal, Norwich, in January 1848: "That the Public may have the opportunity of judging of the cruel injustice of the attack upon him and the theatre.."
Ira Aldridge was an American actor who made his career on the London stage, largely as a result of his roles in Shakespeare. He impressed reviewers and some critics:
"In Othello (Aldridge) delivers the most difficult passages with a degree of correctness that surprises the beholder."
Interestingly, he had limited experience of acting when he arrived from New York. As a result he played up his African lineage, claiming to be descended from the Fulani princely line.
In 1831 he took the name Keene, a homonym for the then famous actor, Edmund Kean. Taking on a similar name to somebody who was already a celebrity on the stage was a common way of gaining recognition.
He was later referred to as the African Roscius, after the famous Roman actor of the first century BC.
He left his native New York for England and played Othello at Covent Garden, but wasn't accepted by the London audiences. The traditional story is that this is because of racism – and some papers, including one national newspaper of the day, wrote appallingly racist reviews – but another view suggests it's less clear-cut, and that a flu outbreak was responsible for a low turn-out and slave supporters bribed reviewers.
Either way, he spent the rest of his career in the British provinces as well as continental Europe, and was hugely successful there.
About Shakespeare on Tour
From the moment they were written through to the present day, Shakespeare's plays have continued to enthral and inspire audiences. They've been performed in venues big and small – including inns, private houses and emerging provincial theatres.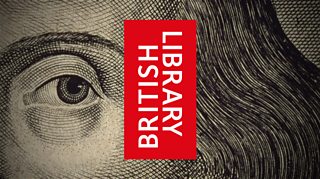 BBC English Regions is building a digital picture which tracks some of the many iconic moments across the country as we follow the 'explosion' in the performance of The Bard's plays, from his own lifetime to recent times.
Drawing on fascinating new research from Records of Early English Drama (REED), plus the British Library's extensive collection of playbills, as well as expertise from De Montfort University and the Arts and Humanities Research Council, Shakespeare on Tour is a unique timeline of iconic moments of those performances, starting with his own troupe of actors, to highlights from more recent times. Listen out for stories on Shakespeare's legacy on your BBC Local Radio station from Monday 21 March, 2016.
You never know - you might find evidence of Shakespeare's footsteps close to home…
Craig Henderson, BBC English Regions
The first lady of Shakespeare
By Tanya Kirk, Curator at the British Library
She was the Meryl Streep of her age. Actress Sarah Siddons was one of the greatest performers of the late 18th and early 19th centuries, not the greatest time to be a woman on the stage. And by the time she retired she was worth a fortune - estimated at £2m in today's money.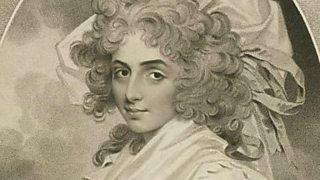 Engraving courtesy of Yale Center for British Art
She was generally better-known for tragic roles. In Worcester in 1775 she became one of the first women ever to play Hamlet, in a performance which entailed her fighting a duel with her brother John Philip Kemble as Laertes.
She came from a great theatrical family, being the daughter of two actors, and all her surviving siblings also made their careers in the theatre. In a period when female actors were often hostages of fortune, forced upon the stage through financial difficulties or personal scandal, Siddons managed to maintain a dignified professionalism that helped to legitimise the role of women as performers.
She was generally better-known for tragic roles. In Worcester in 1775 she became one of the first women ever to play Hamlet, in a performance which entailed her fighting a duel with her brother John Philip Kemble as Laertes.
Although cross-dressed women performers (in what was known as travesti or breeches roles) had a long theatrical history dating back to the first professional female actors in 1660, this tradition eroticised the female body by showing off their legs.
She wanted to play male roles because of the dramatic interest these afforded, rather than as a means of titillation for her audience.
Her performance as Hamlet was a great success, and she later reprised the role in Birmingham and Manchester (1776); Liverpool (1778); Edinburgh and Bristol (1781) and Dublin (1802).
An abridged version of 'The Merchant Of Venice'
On a lighter note in the Theatre Royal's history, there's an amusing account of a performance of The Merchant of Venice in and around 1850.
"The Merchant of Venice a' got five acts – and we ain't had only four of 'em".
Captured in the book, The Theatre Royal Norwich: The Chronicles of an old Playhouse, it tells the story of how the theatre put on an abridged version of the play, suddenly ending it with a full act to go, much to the annoyance of the audience who shouted from the Gods: "The Merchant of Venice a' got five acts – and we ain't had only four of 'em".
The book recounts how Joseph Clarence, the theatre manager of the time, came on to the stage amid the heckling and apologised, blaming among other things, a printing error…
The nation's greatest performing arts institutions mark 400 years since the Bard's death
Shakespeare on Tour: Around Norfolk
Why did Will Kemp dance 125 miles from London to Norwich?

Shakespeare's players paid 40 shillings not to perform
Shakespeare on Tour: Around the country
The city gets its prestigious Theatre Royal

As he collects admission money at the door!

Size not everything as Shakespeare's tragic heroes appear in remote town of Launceston