Main content
Five minutes with Paapa Essiedu...
At 25, Paapa Essiedu is one of the youngest Hamlets ever to perform at the RSC. He is also the first black actor to perform the role at Stratford-upon-Avon. Rory Stallibrass caught up with Paapa to chat about taking on the most iconic role Shakespeare ever wrote and performing in 'Shakespeare Live! From the RSC.'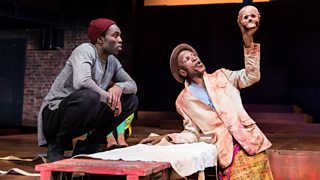 You can't perform Hamlet at arm's length. You have to give yourself over to it

Paapa Essiedu, Hamlet at the RSC

Hi Paapa, how's it all going in Stratford-upon-Avon?
We opened about 4 weeks ago and we're going till August. It's going well so far, it's just absolutely exhausting to be honest! It's really tiring; such an enormous, physically, mentally, psychologically, emotionally draining and demanding part.
How did you feel when you found out you were cast in the role?
(Laughs) It was a bizarre feeling. It was one of those moments of real, true euphoria. I was walking along High Holborn in London and basically walked out into the street and nearly got knocked over by a London bus. Fortunately, I survived and I'm really delighted to be doing it now.
A lot of the reviews have pointed out you're the first black actor to play Hamlet at the RSC. How does that make you feel?
The significance of that lies outside of me and this production. I've always known I'm a black actor. The fact that there have been 86 actors that have played Hamlet at the RSC… if I'm the first black one that tells its own story. I'm really proud of the production that we've put together. I think we've created something genuinely unique, authentic and truthful.
The 'to be or not to be' speech is one of the most iconic bits of theatre ever written and it's known by millions of people all round the world. How did you go about tackling it and leaving your mark on it?
But people only know the first line! I say 'to be or not to be' onstage and everyone kind of sits forward and is like 'yeah, yeah I know this bit...' and then the speech goes on and they're like 'I'd no idea it went that much further!' With speeches like that you've got to treat them just like another piece of text. As soon as you put them on a pedestal it takes you out of the present moment of speaking that language and achieving the objective that you're trying to achieve. It's a beautiful piece of text and it's a real joy to do it every night and to find new things.
As a role it takes a heck of a lot of resilience. Daniel Day Lewis nearly had a minor nervous breakdown whist playing it. Is it hard to leave all that turmoil at the stage door at the end of the night?
It demands that you invest a lot of yourself into it. You can't perform 'Hamlet' at arm's length. You've got to give yourself over to it. But I try not to go to bed thinking about a skull.
It's now been 400 years since Shakespeare died but what do you think he would make of your production?
I hope he would clap at the end. Hopefully he would feel really proud; it's a beautiful present that he's given to the world and the fact it has survived the rigours of time is a real credit to him.
So what is it that you love about performing Shakespeare as opposed to other playwrights?
Shakespeare's got this real talent and ability to distil intangible feelings and emotions. It's incredible. He's always talking about big things like love and revenge and death and life and existential crises. And for mere mortals like you and I, often language is actually a barrier. There's only a certain level of specificity that I'm able to get when I'm trying to describe how much I love someone. But Shakespeare's got this incredible ability to crystalize and really get the physical feel of an emotion and translate it into language. It's beautiful and I love it.
You've now done, arguably, the best male role Shakespeare has to offer. Which of his roles would you most like to play next? King Lear?
I think King Lear is probably quite far away from me because I'm still 25. Maybe talk to the Artistic Director of the RSC and see how bold he's feeling in terms of his casting.
How are you feeling about performing in 'Shakespeare Live! From the RSC?'
I'm feeling really excited about it. There are some mind-blowingly brilliant people involved in it. I'm really looking forward to seeing Ian Mckellen and Judi Dench (obviously) and I can't wait to see Akala - he's an absolute hero of mine.
Thanks Paapa and break a leg for next week.
Thanks Rory.
Hamlet, directed by Simon Godwin and starring Paapa Essiedu runs at the RSC until 13th August. Shakespeare Live! From the RSC will be broadcast on BBC Two on 23rd April at 8.30pm.