Main content
10 things we learnt from Jimmy Carr's Desert Island Discs
Sharp suits, sharp gags - comedian Jimmy Carr tells us about his struggles at school, his happy personality and dancing with his mum. As for how he'd cope on a desert island - "dead in a week", like everyone else, he says. Here's what we learned from the controversial stand-up's Desert Island Discs.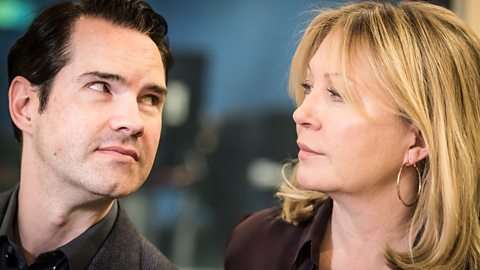 Jimmy Carr on his student days and losing his religious faith.
Go West
He likes Kanye West because of his joyfulness, but admits he "doesn't know what he's on about half the time".
Shared Experience
Famously controversial, Jimmy says audiences at his shows are literally "buying into" his humour, and that he doesn't go round "shouting these jokes through people's letterboxes."
Love notes
Jimmy met his long-term girlfriend when he was auditioning for a TV show. He told his agent he wouldn't be able to work with her because she'd be too distracting. She wrote audition notes about him, one of which was that he was "a one note comedian with the eyes of a sex offender." They still have the notes.
The family dance
He's the middle son of three boys. He says his mother was a very funny person, who "swore a lot. Like a sailor." He would buy records with his mother and they'd dance around the living room together.
Mid-life crisis
He believes he had an early mid-life crisis. He felt miserable in his marketing job at Shell and left it to pursue comedy. "I was bored of my life."
Late starter
He studied at Cambridge. He struggles with reading and writing and couldn't read until he was about 10 with any level of ability which made his acceptance to the prestigious university even more impressive. Switching schools at 16 and the guidance of two teachers who recognised his potential gave him the boost he needed.
Immigration
When he grew up he was very aware of being from an immigrant Irish family (his family are from Limerick), particularly in the political hotbed of the Seventies when IRA bombings were common, and recalls his mother being racially abused.
Late to love
He lost his virginity at 26. He "quite likes talking about that" as he felt weird as a teenager that he was a virgin. He describes himself as "a late developer".
Success!
Success for Jimmy was being paid £200 to play the Comedy Store and realising he could make money "off my wits".
The big question...
Jimmy believes the most important question in life is "what do you want?" Working out how to get it is "comparatively easy", he says.
Complex, interesting and surprisingly cheerful, Jimmy says he's not a fan of the depressing or mawkish, and prefers joyous partying. So do we, Jimmy. Party on!