Main content
The secret police file on the Penguin missile system
The secret police file on the fisherman Berthon Rott from Tananger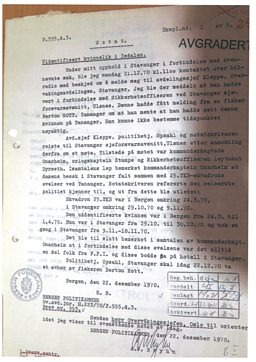 An unofficial translation of the police file on the fisherman Berthon Rott
Classification: Secret
Unidentified body of a woman in Isdalen
During my stay in Stavanger, in connection with the above mentioned case, I was contacted on car radio on Monday 21.12.70 at 1100, with a request to report to head of department Kleppe at the counter-intelligence police in Stavanger. It was communicated to me that he had spoken to the security officer at Ulsnes naval base in Stavanger naval defence district. This officer had received a report from a fisherman, Berthon Rott in Tananger, who is of the opinion that he has seen this woman at Tananger. He could not give an accurate time of this observation.
Head of department Kleppe, detective sergeant Opsahl and the signatory, went to Ulsnes naval station, who had requested a meeting. Present at the meeting was commander Onarheim, lieutenant commander Stumpe, and the security officer, lieutenant Dyrseth. During the course of the conversation, Onarheim remarked that the woman's visit to Stavanger coincided with the exercises of the 25th missile boat squadron at Tananger. The signatory made a reference to the woman's itinerary, as it is known by the police, and the following was deducted:
The 25th MBS was in Bergen around 24.03.70, in Stavanger around 29.10.70 and 09.11.70.
The unidentified woman was present in Bergen from 24.03 to 01.04.70. She was in Stavanger from 29.10 to 30.10.70 and another time in Stavanger from 09.11 to 18.11.70.
Finally, commander Onarheim remarked that during these exercises, there were always some personnel from FFI present. They stayed at hotels in Stavanger. (FFI is the Norwegian Defense Research Establishment, who developed the Penguin anti-ship missile, my comment).
Detective sergeant Opsahl, Stavanger, will conduct an interrogation of Berthon Rott today 22.12.70.
Bergen, December 22nd 1970.
Signed R.S.