Main content
Slowthai: "I want my music to go down in time"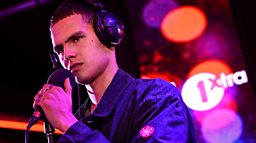 Staying humble
Before he was Slowthai, Tyron Frampton had a hard time fitting in, as he explained to Twin. He felt the "mandem was caught up in some stupid stuff," and at college he was surrounded by indie kids, when he was "just a boy from the estate".
It was only when he started making beats at home using the do-it-yourself production tool Audacity that things began to click. He showed his cousin – who'd go on to become his manager – an early beat, and that beat eventually became breakthrough 2016 song Jiggle. Since then, things have blossomed – he's even collaborated with one-time idol Skepta. But Slowthai is trying not to get ahead of himself.
"I want my music to go down in time," he says when speaking about the future. "I don't want it to just be something for this moment. I want it to capture this moment and live on in another one."
This video contains strong language
Keeping family close
Slowthai claims his mum is his biggest fan. She's always one of the first people to hear his new music – even when it's a tough listen, like song Northampton's Child, which documents his childhood. She cried when he first played her that track.
"She bangs the album more than anyone I know," he beams.
And if you hear a few nods to The Streets in Nothing Great About Britain, that might be because his stepdad used to play their records. "[He] was a geezer from the Midlands," says Slowthai, so he could relate to Mike Skinner's lyricism.
Speaking his mind
There's no hiding on debut album Nothing Great About Britain. From the title, to its provocative artwork, to political billboards plastered around the country ahead of its release (see below), this is a record that speaks its mind.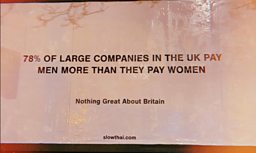 Twin asked Slowthai why he doesn't shy away from politics – particularly when many artists say it isn't their responsibility. His reply: "If I have a voice to shine light on things, or draw attention or provoke, as an artist people look to – I should do that."
He adds that he's not trying to enforce his opinion on other people – he's trying to start a conversation. "Anything I say, you can prove me wrong. It's a debate."
Staying positive
Slowthai seems attuned to keeping his glass half-full. He's had his fair share of hard times, but he manages to maintain a positive outlook on life. Twin asked him how he stays so sunny-side-up, and whether that contributed to his success so far.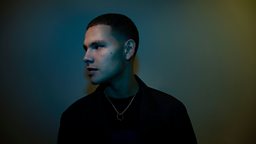 He says it's been a long journey of self-discovery. "Spend time in your head and figure yourself out. Start taking note of all the things you do that you don't like, and then you're more conscious of it and you learn."
He adds: "If you don't embrace the bad, you can never truly embrace the good and be grateful, and have gratitude for the tiniest things. Just believe in yourself and if you don't, force it into your mind until you can't think anything else."
Naturally, keeping this kind of positivity is easier said than done, but Slowthai insists everyone has that light inside them. "Take everything that's bad in your life and look at the positive within it. Don't ever see your glass as half-empty."
The Wisdom of Slowthai
Here are some of Slowthai's wisest quotes from his chat with Twin B:
On self-confidence: "If you're not comfortable in your skin, what can you be? You've gotta learn to deal with yourself before everyone else."
On his Northampton roots: "I never wanted to be part of London. If I'm the King of where I'm from, it don't matter. I've got my throne."
On getting past dark days: "This is the greatest blessing I've ever received in life. How could I ever whine or whinge? I've gotta get on with it. Don't let those days get you down."