Main content
London teens create Votr general election app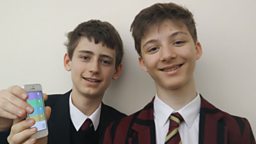 Freddie Poser and Zak Cutner
Two London teenagers have created an app to bring politics to "the Twitter generation".
Zak Cutner, 16, and Freddie Poser, 15, built Votr as part of a Young Rewired State initative.
Available for both Android and Apple devices, the app surfaces anonymised politicians' tweets by constituency, allowing users to choose whether they agree or disagree with statements for candidates in their area.
It then gives results on which politician's views users found most favourable.
Crowdsourced data
Zak and Freddie, who are both self-taught coders, came up with the idea after seeing research from the Electoral Commission about how young people wanted to know more on candidates and their policies.
"It's aimed at anyone with Twitter, but mainly 16 to 25 year olds. We call it politics for the Twitter generation," Freddie Poser said.
"We used crowdsourced date from Your Next MP to find the candidates for each area, there is no actual public source for all of them."
The app asks users to swipe right to like or left to dislike tweets, which have the politician's name and political affiliation removed.
'It's logical'
"The first prototype we did was part of week-long project with Young Rewired State and it got brilliant feedback," Zak Cutner said.
"The whole app from start to finish took about six months. It launched on Android in February and Apple in early April.
"With coding you can achieve things you didn't really think were possible."
The two friends said they are both interested in pursuing careers in computing and their experience in building the app has increased their interest to work on future projects.
"It wasn't simple to make but there wasn't a time when we thought we should just give up," Freddie said.
"With coding I like how it's logical, you can rely on the computer, it doesn't make mistakes."
Getting the nation excited about digital creativity
Get Involved
The BBC is partnering with a range of organisations.
Apps for Good want to build a new global generation of problem solvers and makers while Young Rewired State is building a global community of digital makers.
A nationwide network of volunteer-led after school coding clubs for children aged 9-11 is run by Code Club and CoderDojo offers free computer programming clubs for young people. Online interactive coding resources are available from Codecademy.
Freeformers aims to work with companies and organisations to build digital skills and new ways of working.
TeenTech runs events to show young teenagers the wide range of career possibilities in Science, Engineering and Technology.
Decoded aims to give people an understanding of technologies behind the screen.
Discover more digital opportunities and resources here.
The BBC is not responsible for the content of external Internet sites.