Main content
The Fourth Dimension
Vincent and the Doctor
Vincent Van Gogh (1853 - 1890) was a Dutch artist who only sold one painting in his entire life. After he died his works became appreciated and now he's recognised as one of the world's greatest ever artists. Find out more about Vincent and his art.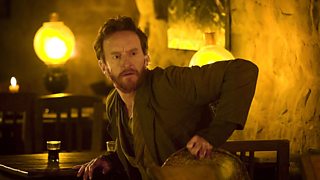 Vincent and the Doctor was written by Richard Curtis most famous for writing classics like Four Weddings and a Funeral, Notting Hill and the Blackadder television series. But this isn't his first brush with Doctor Who. In 1999 he was the Executive Producer of a Comic Relief Doctor Who special called The Curse of Fatal Death. It clocked in at just under 25 mins and was written by Steven Moffat. Whatever happened to him, eh?
Richard Curtis was one of the founders of Comic Relief which aims to alleviate poverty in the UK and abroad. To date it's raised in excess of £325 million. To watch videos relating to Comic Relief (including some great stuff with David Tennant) and to find out more about it, visit the BBC's Comic Relief pages.
Most of Richard Curtis's ideas for Vincent and the Doctor made it into the final version, but one element was dropped. In his original script it's made clear that certain people with remarkable perception can see monsters that are invisible to others. The idea was that great artists such as Picasso and Vincent himself are gifted with this ability and that monsters are more common than we may think...
If Doctor Black looks familiar it's because he's played by Bill Nighy, one of Britain's best known actors - a BAFTA winner and star of films including The Hitchhikers' Guide to the Galaxy and Pirates of the Caribbean: Dead Man's Chest. He's worked with Richard Curtis before on movies such as The Boat that Rocked and Love, Actually.
Doctor Black says the painting that grabs the Doctor's attention in the museum was painted on 2 June, 1890. Vincent and the Doctor received its premier at the BFI Southbank, exactly 120 years later, on 2 June, 2010.
The painting that alarms the Doctor in the museum is a version of The Church at Auvers which Van Gogh painted in the last year of his life. The painting is an oil on canvas work and resides in the Musee d'Orsay, Paris. The version seen onscreen was painted by John Whalley and took about a day and a half to create.
At one point Vincent mentions his brother. Theo Van Gogh was Vincent's younger sibling, an art dealer whose financial assistance enabled Vincent to devote so much of his life to art. Tragically, Theo died aged 33, only a few months after his big brother had passed away.
Much of Vincent and the Doctor was shot in Croatia. The first Doctor Who story that included an overseas shoot was the 1979 adventure, City of Death. Like Vincent and the Doctor, that story also revolved around artwork, with the Doctor travelling to Paris and becoming embroiled in a plot involving the Mona Lisa. Vincent and the Doctor was filmed alongside The Vampires of Venice which was also directed by Jonny Campbell and shot in Croatia.
The read-through for Vincent and the Doctor took place on 23 November, 2009 but according to the man who wrote it, the inception of the episode occured on 25 Decmber, 2008. Richard Curtis was round at his neighbour's house with his family, watching the Doctor Who Christmas special, The Next Doctor. His neighbour just happened to be David Morrisey who played a major role in the episode. Richard's son pointed out that if 'David' could do something connected with Doctor Who, surely his Dad could? He began thinking of ideas...