Main content
Creativity meets history: Doors open for Art That Made Us Festival events
1 April 2022
The Art That Made Us Festival starts today, with events taking place across the UK throughout April. The festival complements the broadcast of a major new BBC television series exploring our creative history. Museums, libraries, archives and galleries are opening their doors to tell the stories behind their astounding collections.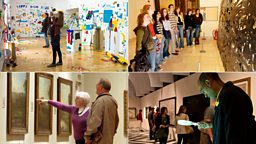 Find an event in your area
Organisations are running events using items in their collections to explore the spark of creativity across history.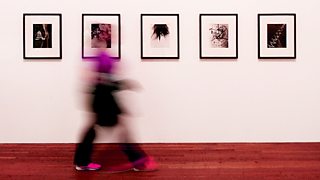 Explore the spark of creativity.
To find an event in your area, go to Museum Crush.
Events are taking place in real life and virtually across the UK - from the National Gallery in London, to the Tate galleries, to MOMA Machynlleth, Orkney Libraries, F. E. McWilliam's Studio and Gallery in Banbridge, and the Devil's Porridge Museum in Eastriggs.
There are more than 100 events planned including...
Talks on objects in a collection from a curator, custodian, local artist or volunteer
Tours around a collection
Workshops or classes with local artists or artisans related to a specific object
Showcases of content built around an object
Gallery-based performances
Displays showcasing an object, book, artist or author

Artworks in Focus: Stories from Museums
Curators Jane Stern and Sophie Walter from the London Fire Brigade Museum take us on a journey to discover the history and the art woven into the uniforms.

Contemporary glass-blower Chris Day's artwork was inspired by the world's oldest rum, and by Harewood House's uncomfortable links to the slave industry, in a fascinating story told by the museum's curators.

In the 1960s and 70s, Macgregor became known for her stylish fashion illustrations in tune with the times. Later, her art focused on food. University of Dundee Museums on Macgregor's life and work.

A taster of Festival events…
MOMA Machynlleth - David Gepp: Autographs from Llangollen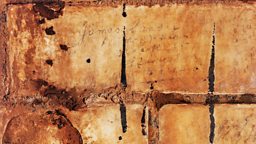 MOMA Machynlleth in mid-Wales is putting on an exhibition by the photographer David Gepp. Autographs from Llangollen is a short anti-war piece, inspired by the discovery of signatures and messages from World War One soldiers under a railway bridge at Llangollen.
An examination of these led to a discovery that suggested the loss, not only of their lives, but also of unknown lovers and unborn children. This poignant and moving exhibition will run throughout the month of April.
Orkney Library & Archive - Gunnie Moberg: A Creative Legacy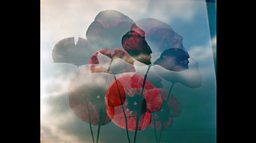 Orkney Library & Archive is staging an exhibition by the artist Gunnie Moberg. Moberg was a Swedish photographer who in 1976 moved to Orkney, where she took extensive aerial and landscape photographs, as well as portraits of celebrities and locals alongside her photojournalism.
Through these pictures, which span a period of over 20 years, she built up a compelling body of work that not only represents the social history of Orkney during the last quarter of the 20th Century, but also often transcends the documentary role. The exhibition will feature a selection of images from the Gunnie Moberg Archive including her double exposed flower images, aerial views and scenes of Orkney places and people.
Ulster Museum - Slow Art Sunday inspired by the Art That Made Us Festival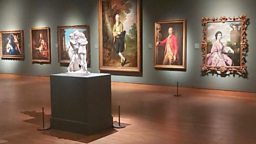 On Sunday 24 April there is a special edition of Ulster Museum's Slow Art Sunday, inviting visitors to experience art in a different way...SLOWLY. One of the museum's visitor guides takes people on a journey through the collections, discussing specific works such as Quiet by Tissot and Protest Crowd by Joy Gerrard, which are featured in two new semi-permanent hangs.
Visitors 'get the chance to really dissect these pieces and discover new things along the way. The perfect way to spend a Sunday afternoon'.
The William Morris Gallery - Althea McNish: Colour is Mine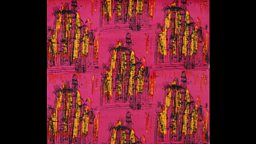 Painted Desert textile design for Hull Traders, 1959. Printed cotton. Image © the Whitworth, The University of Manchester
The William Morris Gallery at Water House in Walthamstow, London is staging a landmark exhibition of works by designer Althea McNish. Colour is Mine is the first major retrospective of McNish (1924 – 2020), who was one of the UK's most influential and innovative textile designers, and the first designer of Caribbean descent to achieve international recognition.
Drawing on extensive new research, the exhibition will explore McNish's extraordinary career and her transformative impact on mid-century design, along with her enduring influence today. Highlights will include some of McNish's original designs alongside her most celebrated textiles and wallpapers.

Art That Made Us - The Series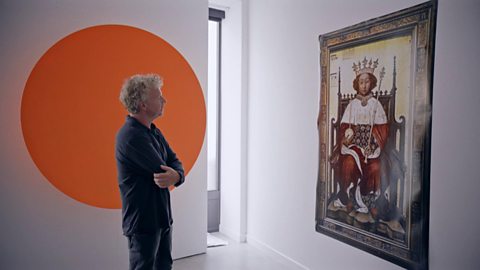 An alternative history of the British Isles, told through art on BBC Two and iPlayer.
Watch Art That Made Us
Art That Made Us is a major new documentary series exploring our creative history. Watch it on BBC Two and iPlayer from 7 April.
An alternative history of the British Isles, told through art on BBC Two and iPlayer.
The series explores how pivotal works of art, literature, design and music have helped shape our creative story. Focusing on artworks that emerged at times of turbulence, each programme looks at what they reveal about a turning point in our history.
It traces an exciting, contested narrative: the constant flux of migration and conquest in our early history; the trauma of the Black Death in the Middle Ages; the religious upheaval of the Reformation; the Civil War; the Industrial Revolution; the explosive growth of the city during the 19th Century, and divisions between town and country; the generational impacts of world war in the 20th Century; a youth culture challenging the old establishment and the rise of a multicultural society.
Inside Museums
To accompany the Art That Made Us series, there are four new episodes of Inside Museums on BBC Four and iPlayer from 4 April.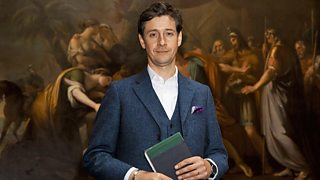 Lachlan Goudie

Festival stakeholders
The BBC is working with Culture24 and a key group of stakeholders to liaise with the arts sector at the broadest level and ensure the Festival reflects the diversity of our nations.
Sign up to run an Art That Made Us Festival event