Main content
Art That Made Us Festival: How to get involved
7 October 2021
Welcome to the Art That Made Us Festival, an exciting partnership between museums, libraries, archives and galleries along with the BBC to coincide with the broadcast of a major new series exploring our creative history. The Festival – from 1-30 April 2022 – is an opportunity for audiences to explore the astounding creativity held in collections throughout the UK. Here you can find out how your organisation or institution can get involved.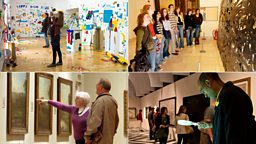 Get Involved
Art That Made Us is a major new cultural history of the British Isles, exploring how pivotal works of art, literature, design and music have helped shape our creative story. It traces an exciting, contested narrative, focusing on artworks that emerged at times of turbulence: the constant flux of migration and conquest in our early history; the trauma of the Black Death in the Middle Ages; the religious upheaval of the Reformation; the Civil War; the Industrial Revolution; the explosive growth of the city during the 19th Century and divisions between town and country; and the generational impacts of world war in the 20th Century; a youth culture challenging the old establishment and the rise of a multicultural society.
No organisation or event is too big or too small.
The Art That Made Us Festival will run alongside the series from 1-30 April 2022. The BBC is working with a wide selection of stakeholders from across the UK including Art Fund, Art UK, the Association of Independent Museums, The Black Curriculum, Libraries Connected, the Museums Association, the National Museum Directors' Council and Scottish Library & Information Council.
We are inviting museums, galleries, libraries and archives to schedule events exploring the spark of creativity using items in the UK's collections. Events can be virtual or in real life. They can be newly organised or cultural organisations can badge existing ones. We are partnering with Culture24 which will list all Art That Made Us Festival events on Museum Crush. BBC Arts is working closely with all corners of the BBC to tell the stories from these events and BBC Local Radio in particular will play an important role in bringing these to audiences.
The content of the events is up to your organisation. It could be a debate or a keynote speech, a performance or a hands-on workshop using an item from your collection as the starting point.
We hope to involve museums, galleries, libraries and archives from around the UK, and are thrilled that so many organisations have already agreed to take part. These include the British Library, Centre for Contemporary Art in Derry/Londonderry, FE McWilliam Gallery and Studio, the Horniman Museum and Gardens, MOMA Machynlleth, Orkney Library and Archive, The Potteries Museum and Gallery, The Scottish Maritime Museum, The Fitzwilliam Museum, Derby Museums and the V&A and V&A Dundee. We hope you will join them.
To get involved sign up as an Art That Made Us Festival Partner to get access to branding and receive regular newsletters about the festival.
The series is full of stories of innovators, disruptors and visionaries responding to seismic events and redefining our art and its possibilities. We hope the UK's world class cultural organisations will help tell even more stories based on items held in their own collections.
What can you do?
The Art That Made Us Festival is an opportunity to highlight some of the treasures in your collections to reinforce that art and creativity are at the heart of all our lives.
We are inviting cultural organisations to schedule events using an item from their collections as the starting point. It can be new events or you can badge existing ones, and they can take place in person or online. For example, you could propose:
A talk on an object in your collection from a curator, custodian, local artist or volunteer
Tours around your collection
Workshops or classes with local artists or artisans related to a specific object
Showcases of content built around an object
Gallery-based performances
Displays showcasing an object, book, artist or author
Art That Made Us
Art That Made Us is a major new documentary series exploring our creative history and you can watch it on BBC Two in Spring 2022.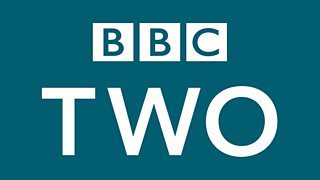 The series explores how pivotal works of art, literature, design and music have helped shape our creative story. Focusing on artworks that emerged at times of turbulence, each programme looks at what they reveal about a turning point in our history.
Festival stakeholders
In addition to Culture24, the BBC is liaising with a key group of stakeholders to work with the arts sector at the broadest level and ensure the Festival reflects the diversity of our nations.
Sign up to take part in the Art That Made Us Festival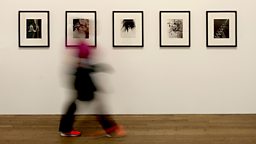 Make use of BBC archive
The BBC aims to provide access to a large selection of archive assets to be used by Festival Partners on the broad theme of 'creativity'. These will be available to enhance your events or digital offer, by using content on the BBC's websites or in some cases having specific material which you can request from BBC Archive. The content will be available for inclusion during the Festival period.
If there is a specific piece of content (radio, TV, documents or images) which you would like to use from the BBC's archive we will investigate whether it is possible to make it available to you for your Art That Made Us Festival event. Once organisations have signed up as a Partner we will explain how to go about asking for the material.
The BBC also aims to work with selected Festival Partners to produce stories and articles to engage audiences, using selected content from the BBC archive and tools in the BBC R&D's MakerBox (https://www.bbc.co.uk/makerbox). Ideas for suitable stories can be submitted by Festival Partners to the BBC and those chosen will work with the BBC Archive Content & Partnerships team to create online articles and experiences to engage your audiences.
If your organisation is interested in using BBC archive please sign up as a Festival Partner.
Become a Festival Partner
Sign up as a partner here - this will ensure you receive regular updates via our Newsletter, get information about how to make use of BBC archive, and have access to Festival branding
Agree to the Terms and Conditions
Enter your event on the Culture24 database so it can be listed on Museum Crush, the collaborative storytelling platform
MakerBox tools
Bring your stories to life using:
Canvas (a tool to create glossy, visually-led, parallax scrolling timelines, which can incorporate a wide range of assets including video, audio, gifs, images and documents)
Storyformer (BBC R&D's flexible storytelling tool for personalised visual experiences)
Audio Orchestrator (BBC R&D's spatial audio tool that transforms listening spaces into three dimensional soundscapes through mobile devices)
Examples of archive content created by partners
A story created by West Sussex Library Service using BBC Canvas.

A story created by Live Life Aberdeenshire using BBC Canvas.