Main content
Musings of a life model
The human figure has been the subject of drawings since prehistoric times. Nowadays artists are encouraged to draw the human form using a live, nude model in a group class. But what is it like to be the muse of those classes?
Professional artists' model Ruby Magic talked to Get Creative about how being a life model is so much more than being naked and keeping still.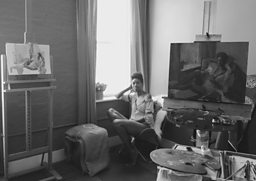 Ruby posing for an oil painting
By Ruby Magic
Being an artists' model is so much more than being nude and keeping still: it is a dialogue that can inspire creativity.
It is a surprisingly exciting life for someone who spends so much time standing still
I already had a huge interest in art and art history before becoming an artists' model, and that has contributed to my approach to working out the poses that I choose for artists to draw. Examining figurative art works by Auguste Rodin and Henri Matisse helps me to think in terms of shapes, rhythm, movement and flexibility. I am aware that these aspects are central to the artists' compositions and can stimulate and inspire their work.
When I pose, I'm using my body to search for a sublime form - I'm trying to create a puzzle for the artists to solve. When I find a pose like this, everything feels right - I hold the pose for minutes or days, crystallising that moment for the artist.
Reading about other influential muses, such as Elizabeth Siddal, Josephine Baker, Gala Dali, Henrietta Moraes and Quentin Crisp has inspired my life as an artists' model. Their lives were full of excitement, storms and passions, dreams, dramas and desires.
Already I have become immersed in the fascinating world of creative people: painters, sculptors, photographers, musicians, writers, poets and dancers. These are people with tremendous focus and enthusiasm, and my collaborations with them have led to adventures and new insights about art and life.
I have also been lucky to have had the opportunity to travel to New York and France to model for particular artists. It is a surprisingly exciting life for someone who spends so much time standing still!
August will mark four years since I decided to become an artists' model and at that time, when modelling in Oxford for painter Francis O'Neill, I never imagined that it would open up my life so wonderfully. I'm hoping to continue to be inspired, and help to inspire others. I would love to become an influential 21st century muse for some extraordinary artist.
In a new four part series, the BBC's arts editor Will Gompertz has been meeting people who pursue a creative passion in their spare time, and joins them for a mini-masterclass, with leading practitioners offering help and advice. You can listen again to the first episode where he joined a life-drawing class.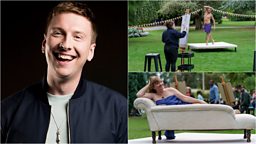 Joe Lycett will be joined by a number of well known faces for Life Drawing Live! like professional dancer Ian Waite and broadcaster Kate Bottley, who both tried out being a life model in a Birmingham park.