Main content
From Canaletto to Kenni-letto
13 April 2015
By any artist's standards the scale of the challenge was daunting. Retired tool-maker Kenneth Small has completed a life-sized replica of a masterpiece by Canaletto – a task he set himself to keep him occupied during the long winter months.
The 81-year-old from County Durham spent three years painting the 5ft x 7ft canvas – which he's dubbed his Kenni-letto - an almost exact copy of the Italian painter's The Bucintoro returning to the Molo on Ascension Day after the Ceremony of Wedding the Adriatic, painted around the 1730s.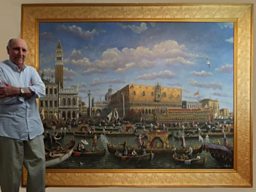 "It was a struggle at times but once you've started you've got to finish. But I did think I was mad to be doing it".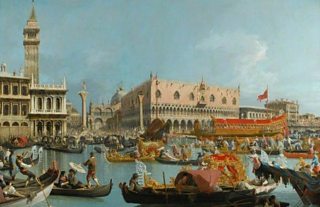 Canaletto's original. Credit: The Bowes Museum
The idea came to him while visiting The Bowes Museum in Teesdale, which houses the original by the painter famous for his Venetian landscapes.
"I've always painted and sketched but I wanted to set myself a big challenge as I was sick of doing little paintings," Kenneth said.
"I was standing in front of the Canaletto and I thought 'I'll have a go at doing one of those'".
A few days later he saw a newspaper story featuring another of Canaletto's signature piazzo scenes. "The article ended with the words 'you may even be tempted to pick up a paint brush.' I thought it must be an omen and decided to go for it."
One thing Kenneth hadn't banked on was the amount of intricate work required. His tool-making skills came in handy as he had to build himself a frame on which to lean just to complete the work.
"I found I couldn't hold a painting palate for long periods like most artists so I needed something on which to rest my wrists to carry on the work."
"I'll probably sell it one day," he said, "but for now I just want the public to see it." But that might not be as straight-forward as it sounds. The painting is resting on the floor of a back bedroom which doubles as Kenneth's studio.
And because of its size the picture frame, which he built himself, will have to be dismantled to get it through the door.
He has vowed to continue painting, although admits he may not tackle anything on the same scale again. "The next thing I paint will probably be half the size," he said.