Main content
6 of PJ Harvey's biggest influences… according to PJ Harvey
By Paul Stokes, August 2017. Updated February 2021.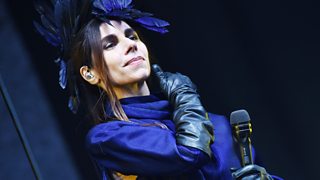 6 Music is celebrating PJ Harvey with a fantastic collection of classic interviews and standout performances from over the years - plus a special playlist - for this week's Artist Collection.

Delving deep into the BBC archive, the documentary PJ Harvey: In Their Own Words offers an intimate, illuminating and charming portrait of the artist through vintage interviews, Andrew Marr-hosted showdowns with politicians, Peel sessions and much more.
You can hear the documentary in full via BBC Sounds - but as a taster, here are six key factors behind PJ Harvey's music, as identified over the years in her own words.
Celebrating the music and career of PJ Harvey with a special series of shows
1. Bob Dylan
"Bob Dylan is a sacred name in our household."
The stone quarry man's daughter could well be a PJ Harvey song title, but it in fact describes Polly's background. Born in Bridport, Dorset, her parents Ray and Eva did indeed run a quarrying business, though the gems they extracted for the young PJ came from their record collection, playing her a diet of progressive '60s rock'n'roll.
Chief among them was Bob Dylan who was on frequent rotation and his impact is clear. Harvey not only covered Dylan songs in her first band, folk duo The Polekats, but a brief, punky reimagining of Highway '61 Revisited features on her second album, Rid Of Me.
Lyrics-wise Dylan has been a clear influence. Harvey shares his creative wanderlust, changing from album to album, but she also eschews the autobiographical in favour of strange snap shots, real world events, tall tales, heartbreakers, love songs and more.
2. Politics
"Since a young age I've been interested in what's going on in the world… but I didn't want to do it badly, so I wanted to wait until I felt that I had more experience as writer and would be able to carry it off..."
Serious historical research and documentary field work are not often part of an album's demo process, but both have been crucial to Harvey's most recent works. 2011's Let England Shake examined the impact of conflict on soldiers and civilians alike through both historical and contemporary lenses, leading Harvey to sift through a range of sources from historic letters to active blogs.
2016's The Hope Six Demolition Project fused songwriting and journalism as Harvey visited many of the places she sung about to collect material directly. This not only produced the album, but it provides the basis for a documentary that filmmaker Seamus Murphy simultaneously created with Harvey.
3. John Parish
"When I was 17-years-old John Parish played me two songs…"
While John Parish's selection of two tracks from Nick Cave & The Bad Seeds' From Her To Eternity had an immediate profound effect on the young singer's songwriting, it's the man himself who has been one of the strongest guiding lights in PJ Harvey's music.
Lifelong friends, Parish helped Harvey to gain her musical chops both through record recommendations and by recruiting her into his band Automatic Dlamini.
Its ever changing line-up not only provided valuable experience, it also yielded Rob Ellis and Ian Olliver, Harvey's initial backing band. Since then Parish has produced and played on a host of PJ's solo records, including two that were billed as joint albums – Dance Hall At Louse Point and A Woman a Man Walked By – and is a longstanding member of Harvey's live band.
It's fair to say John Parish as been one of PJ Harvey's most important collaborators and a loyal lieutenant…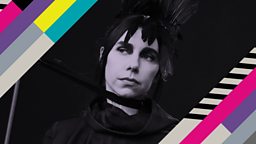 4. Captain Beefheart and his Magic Band
"Captain Beefheart phoned-up because he just wanted to say he liked what I was doing..."
Another 'gift' from her parents' record collection, Captain Beefheart didn't initially make the best impression on the young Polly Harvey. "I'd heard Beefheart when I was really young through my father and my mother, they had all of Beefheart's work, but when I was a child it just used to make me feel ill," she admitted around the release of A Woman A Man Walked By.
It was John Parish – him again – who reintroduced Harvey as a teenager to Don Van Vliet's work which left a deep impression on her music… and then another mutual friend introduced her to Beefheart himself. This led to a friendship with Van Vliet, plus later a year-long stint for Harvey playing bass in former Magic Band member Morris Tepper's Los Angeles group.
5. The arts
"I was more of a sculptress when I was at art college…"
Although PJ Harvey's art foundation course did not lead to a full degree – she hit the road with the band instead – the arts have remained a key interest and influence. Visual ideas often go hand-in-hand with song creation – anyone lucky enough to witness the public viewing sessions when Harvey recorded The Hope Six Demolition Project in a special gallery at Somerset House couldn't have missed the notepads and drawings strewn all over the studio – and she has forged longstanding visual collaborations with artist Michelle Henning and photographer Maria Mochnacz.
Harvey has also exhibited her own sculptures in her native Bridport and she has discussed a new love of painting in oils, something she says she intends to share with the public in due course.
Her artistic endeavours also include poetry, performing her works live and publishing her first book, The Hollow of the Hand, in 2015, and this has had a strong influence on her music. Poems she wrote while visiting Afghanistan and Kosovo fed directly into lyrics for The Hope Six Demolition Project – and also inspired a BBC Radio 4 play On Kosovo Field.
6. The saxophone
"I don't know why, I just suddenly developed an aversion to the saxophone. I can't bear the sound of it any more, maybe one day I'll like it again…"
By Polly's own estimation the saxophone is the instrument she plays best, yet it's had a fraught place in her music. A key formative influence, she learnt the instrument between the ages of 11 and 17 – doing her grades – but when it came to making her own music it was notable by its absence as she turned against her teenage passion… until The Hope Six Demolition Project.
Not only was the studio full of saxophones – Blur collaborator Mike Smith was among the players recruited for sessions – but Polly was repeatedly pictured playing her sax in press shots. She also plays one live during shows which she wields like a sage's staff.
The love affair is back on.
Celebrating the music and career of PJ Harvey with a special series of shows