Main content
Nurun Ahmed
After leading her team to a lucky victory in the Wearable Technology task, Nurun was fired in week three after being one of the lowest sellers in the Home Fragrance task. "In that boardroom I think Lord Sugar overlooked my potential," Nurun said in her taxi home.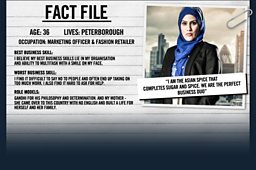 About Nurun
Nurun works full-time as a marketing officer while also running three of her own businesses. She says she is thoughtful, considerate and a multitasker, and the business brands that inspire her include Innocent, as it is a prime example of a UK start-up that shook up its industry. Her proudest business achievement is setting up three small businesses within 18 months.
Nurun finds it difficult to say no to people or ask them for help - the result of this being that she can end up taking on too much work. She calls Gandhi and her mother - who came to England to build a life without being able to speak the language - her role models.