Main content
Macbeth: Something wicked this way comes...
"Fair is foul, and foul is fair", "Is this a dagger which I see before me?", "Out damned spot!", "Double, double toil and trouble; Fire burn, and cauldron bubble", "One fell swoop".
Macbeth is one of Shakespeare's best-known and most quoteable plays. Set mainly in Scotland it is a tragic examination of the consequences of power and political ambition on the title character and his wife. During its history Macbeth has attracted many of the world's greatest actors to its leading roles, from Richard Burbage (the likely first Macbeth), via Sarah Siddons, Henry Irving and Ellen Terry to stars of today including Ian McKellen, Judi Dench, Michael Fassbender and Marion Cotillard. It has also been reinterpreted across other media including dance, opera and the visual arts.
On this page we've gathered together a collection of Macbeth performances and other "honest trifles" from the BBC and our partner organisations.
"Lay on Macduff"!
Join the mayhem on Saturday 13 August and find out how many Macbeths we can shake a dagger at over one day of toil and trouble!

Experience the genius of the Bard's creativity and its reinterpretation by artists in all art forms.

The Hollow Crown, biggest Bottoms, great speeches, Shakespeare in Pop - discover these and many more features about the world's greatest playwright.
Shakespeare's Globe - watch the Macbeth film from the Complete Walk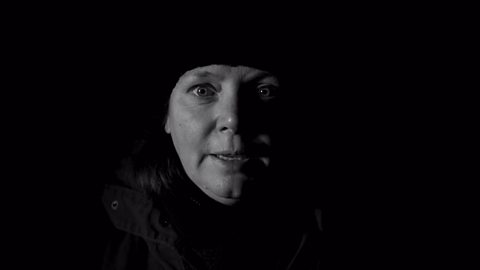 Starring Joseph Millson, filmed at Glamis Castle, Angus, Scotland
To commemorate the 400th anniversary of the Bard's death, Shakespeare's Globe has assembled an all-star cast to make 37 short films - one for each play - and here's the twist: each lavish 10 minute vignette is made on location in the real setting of each plot.
Lady Macbeth, played by Vicky McClure
Lady Macbeth, played by Vicky McClure (Line of Duty, This is England), summons up her demons in this soliloquy from Act 1 Scene V in Macbeth.
This menacing and dark film, directed by David Wilson (Colonel Blimp productions), is the fourth film in the British Council's series of modern re-imaginings of Shakespeare and combines performance with Manga animation.
Contains adult themes.
Watch all the British Council's #ShakespeareLives 2016 films
More Macbeth from Shakespeare Lives
Rory Kinnear and Anne-Marie Duff perform the 'dagger scene' from Macbeth at the RSC's Gala marking the 400th anniversary of Shakespeare's death.

Ian McKellen explains why 'the Scottish play' is thought to be cursed among actors and why the play's title should never be uttered...

Tomorrow and tomorrow and tomorrow, from Macbeth - composed by Matthew Herbert and performed by Rahel Debebe-Dessalegne.
Watch a clip from the BBC TV Macbeth production from 1983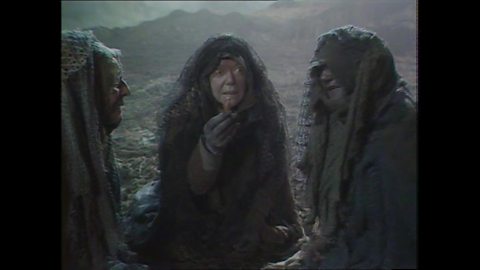 Watch a clip taken from the complete BBC TV Shakespeare broadcast between 1978 and 1985.
In this clip from Act 1, Scene 3 Macbeth and Banquo encounter the three witches who make some startling prophesies about their futures...
Featuring Nicol Williamson as Macbeth and Ian Hogg as Banquo, with Brenda Bruce, Eileen Way and Anne Dyson as the witches, Gawn Grainger as Ross and David Lyon as Angus.
'Tomorrow' - a new Macbeth-inspired work from Rambert which gives physical life to the dark and dangerous world of Macbeth.
Shakespeare on Tour - discover performances of The Bard's plays countrywide from the 16th Century to the present day.
A look at Bamburgh Castle, the location of the latest Macbeth film, starring Michael Fassbender.