Main content
How Instagram has changed the food we eat
Pop to a restaurant these days and you'll undoubtedly spot a punter taking a photo of their plate. For some diners in fact, a meal can't start without first taking a snap of their food to share on Instagram, with accompanying hashtags like #foodporn, #delicious and #yum.
The Food Programme has been thinking about what food looks like more than ever before, with some even arguing that a dish being "grammable" matters more than what it tastes like.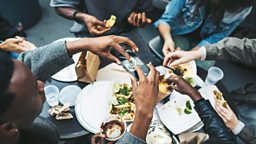 From "green goddess" smoothies to the bubblewrap waffle phenomenon, here are some of the ways in which the social media platform has fed what we eat.
Plant power
Instagram has done incredible things for the vegan food revolution.
Ella Mills (who most of us know as @deliciouslyella) is now a household name after documenting her plant-based lifestyle online. She has multiple book deals, her own line in energy balls, and 1.4 million followers on Instagram. She explains the role the social media platform has played in the success of vegan food: "It has enabled plant-based eating to be conveyed as something colourful, abundant, vibrant and delicious, which has helped shake the preconceptions of it being more like 'rabbit food!'"
Instagram has proved that plant-based food can be visually appealing as well as healthy – something vegans are passionate about showing. @wildfoodcafe describes itself as producing "raw-centric, innovative plant food." They post pictures of vibrant smoothies (with names like "The Forgotten Ecstasy"), and sumptuous salad bowls piled with avocado, quinoa and kale – all of which leaves the mouth watering. Their feed has won them 61,000 followers.
If you need anymore convincing on the influence of Instagram then it's worth considering how, according to Google trends, since 2012 searches for "veganism" have been rising on a strikingly similar trajectory to searches for "Instagram".
World cuisine
Thanks to Instagram, sharing recipes with people all around the world is easier than ever before – allowing us to see and experience dishes from a plethora of cultures different to our own.
Anissa Helou is the author of 'Feast: Food of the Islamic World'. Her Instagram account is "an amazing insight into cuisines in parts of the world that you haven't really seen before," says journalist George Reynolds. And it has garnered her 17,500 followers. Anissa's feed is full of tasty dishes, recipes from Middle Eastern cuisine and videos of techniques that her followers may not have seen before – like the preparation of sheep's testicles!
Instagram has broken down the geographical barriers of the food world.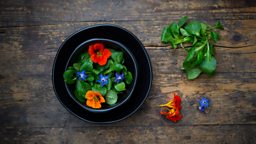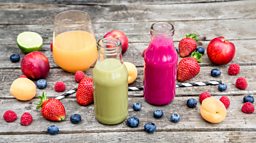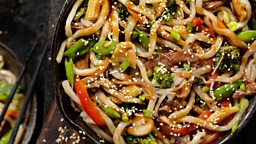 Rainbow food
Why should food be beige when it can be red, orange, yellow, green blue and purple – all at the same time? Clearly a lot of people are asking the same question because there are 119,000 posts on Instagram under the hashtag "#rainbowfood." One recent phenomenon is the rainbow bagel, made from multicoloured doughs that are then twisted into the traditional bagel shape. The bagels proved so popular after a friend of Kim Kardashian's shared pictures of his purchase on social media that they were promptly trademarked by their creator, Scot Rossillo, the Brooklyn baker.
A fantastical sub-category has taken the world by storm - #unicornfood showcases pastel-coloured foods, often topped with glitter.
Within the rainbow food group there is a fantastical sub-category: #unicornfood. Lurid, pastel-coloured foods, often topped with glitter, have also taken the world by storm – thanks to the power of Instagram. In 2017 Starbucks unveiled a Unicorn Frappuccino: pink, blue and topped with glittery, multicoloured whipped cream. An instant hit.
But rainbow food doesn't have to clog the arteries. Rainbow salads, packed with fruit and veg, segregated by colour, are also hugely popular thanks to their photogenic nature.
Fully loaded food
Instagram has shown that many of us want our food over-the-top and deeply indulgent.
The way restaurants are designed is evolving to keep us happy to take more pictures - better lighting is a must.
The #freakshake – an Instagram hit – is a high-calorie, mega milkshake that contains ice cream, whole chocolate bars and entire slices of cake. And then there's the bubblewrap waffle: a sweet egg waffle cone with a signature bulbous texture – packed with cream, fruit and other sweet treats.
Joe Moruzzi is @pleesecakes on Instagram. He is a former painter and decorator whose indulgent cheesecakes, with toppling mounds of sweets and chocolates, led to him collecting 147,000 followers in just 18 months. "It's a very instagrammable product," he says. His posts can go from a "fully loaded cake which is very chocolaty, salted caramel, to a fruit cake the next day – and obviously it keeps people interested because they like the unexpected."
Personalised food
Is a coffee with your own face on it the ultimate Instagram offering?
Tea Terrace on Oxford Street, London, launched the "Selfieccino" - a cappuccino with the customer's own face imprinted on the froth. A special printer scans the selfie on to the top of the beverage. 3,294 people have posted their personalised coffees under the "selfieccino" hashtag.
Extraordinarily, stock cube brand Knorr has found a way to work out what we want to eat – just from looking at our Instagram feeds. "Eat Your Feed", is a tool that analyses an Instagram user's data in order to serve up personalised recipes based on their experiences and interests (all of which contain Knorr stock in some way). If you've just been on a mini-break to Barcelona, Eat Your Feed will provide you with a recipe that reflects that experience, like a seafood paella.
Restaurant design
It's not just food itself that has changed. The way restaurants are designed is evolving to keep Instagram snappers happy.
"You definitely see major restaurant openings designed with lighting in mind," says journalist George Reynolds, and "with phone sockets at tables so people can charge their phones while they're eating." Restaurants are also clocking on to the "grammable" appeal of specific design accents, like "a caption in a mirror, or a cool bit of tiling, or some cool wallpaper."
It's not just what we eat that's changing, but where we eat it too.