Main content
The Maverick Generation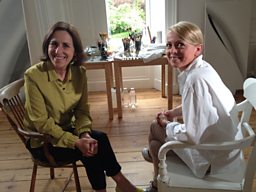 Kirsty Wark and Alison Watt
Scotland's most significant artists of the past 25 years are celebrated in GENERATION - a programe of exhibitions across the country in 2014. Kirsty Wark writes for BBC Arts about meeting some of these artists for Scotland's Art Revolution: The Maverick Generation
Scotland's transformation from declining industrial powerhouse to an international centre of artistic creativity is one of the most phenomenal cultural stories of modern times. Shining a spotlight on it for this documentary for me has been an exhilarating experience.
What struck me most was the generosity with which the artists discussed their own work. There was no sense of withholding - that the art should speak for itself (though of course that is true) or that success had jaded any of them. Here were artists still pushing on, working furiously hard, and always interrogating ideas, thinking, thinking, thinking.
My encounter with Christine Borland was especially poignant for me. We met in The Dick Institute in Kilmarnock in Ayrshire, one of the most important buildings of my childhood, where I would read and collect library books, and sometimes venture upstairs to the eclectic museum.
In the exhibition space downstairs Christine had evoked memories of the lace mills for which her home town, Darvel, was once world famous, and where her mother and father had worked. By sewing together the cards that created the patterns – memories themselves – into a long, long curtain installation looped to the double height ceiling, all at once, history was alive.
Her title Daughters of Decayed Tradesmen, (a great title too for an album!) came from the Edinburgh Trades Maiden Hospital fund set up in 1704 to 'provide board, lodging, clothing and education for the daughters and granddaughters of "decayed" tradesmen'.
I very much like the description of Nathan Coley as "an editor of the world." He is interested in the way that architecture and society meets – the point of connection, or disconnection between people and our built environment, but he articulates it much better than I can.
Here were artists still pushing on, working furiously hard, and always interrogating ideas"
For Generation he has installed The Lamp of Sacrifice, 286 Places of Worship, Edinburgh in the Gallery of Modern Art in Glasgow. These places of worship scaled down and iterated in cardboard are clustered together, perhaps conflicting ideologies facing each other, creating an uneasy claustrophobic atmosphere.
We also filmed one of Nathan's best known sculptures, There Will Be No Miracles Here at The Scottish National Gallery of Modern Art in Edinburgh, arose from an historical anecdote, about a seventeenth century king's decree in the face of a village full of miracles.
It also reflects the artist's preoccupation with The Enlightenment. I also like to think it is a riposte to one critic's now infamous view of the work of the artists of the Environmental Art department at Glasgow School of Art that it was a "Glasgow Miracle."
I also visited Alison Watt in her beautiful Georgian studio in the New Town in Edinburgh. I have followed her brilliant career since I went to her degree show where my friend bought a small painting which I showed Alison after all these years and she told me is a portrait of her sister.
She is such a thoughtful composed artist whose sensuous folds and drapes, as cool as marble, and sometimes inspired by Ingres have now what appears to me as a more emotional engagement. In the folds of her large canvases are fleeting hints of a shoulder or an underarm, the possibility of veins, perhaps a breast and Alison says she doesn't really know where this has come from. I am transported to a quieter place when I contemplate her work.
We should be so proud of the artists who live and work in Scotland. This country, and their view of it, their history, memory, perhaps politics, energy endeavour and most of all their talent is in every rivet, video, light bulb, paper, stuffed animal, and brush stroke.
Tackling such an intense, visually arresting, subject in an hour for television inevitably meant that the director Bill MacLeod could only include some material from each of the interviews. I'm glad that some of the interviews are getting a longer airing online.
Scotland's Art Revolution: The Maverick Generation is on BBC FOUR at 20:00 on Sunday 20 July at 20:00 and BBC TWO Scotland at 21:00 on Monday 28 July.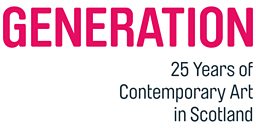 About GENERATION
GENERATION is a showcase of some of the most important artists to come out of Scotland in the past 25 years. It brings together work by more than 100 artists to 60 galleries and exhibition spaces across the country.