Main content
Daniel Radcliffe prefers playing a farting corpse to doing Hollywood blockbusters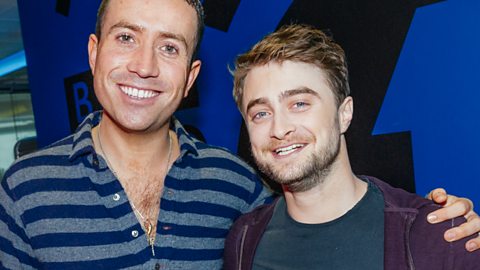 Daniel Radcliffe offers advice to a reluctant bridesmaid and some naked holidaymakers
Acting supremo Daniel Radcliffe spent the morning with Nick Grimshaw talking about his new films - he's got not one, but TWO movies out this month.
One's Imperium, where he plays an undercover cop infiltrating a white supremacy group, which is a RIDICULOUSLY tense affair.
The other is Swiss Army Man: a movie where - how can we put this - he plays a farting dead guy.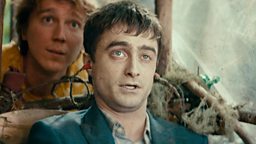 Credit: Cold Iron Pictures
When Grimmy brought up the whole playing-a-gassy-dead-person, Radcliffe, now 27, reckoned it was the way to go!
"In terms of the big box office blockbusters I love them, still watch them, and still would love to do more. But the most interesting work has been in little weird indies."
Since Harry Potter, Radcliffe has appeared in smaller films such as oddball horror Horns, alongside Juno Temple.
So, the message to interested producers is simple: offer him a bonkers indie flick over a $250 million Hollywood actioner and he'll be happy.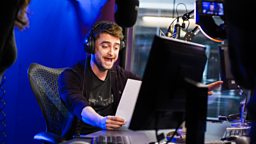 We also found out that the actor is a complete fan girl when it comes to Netflix series Stranger Things: "Can you just, like, tell them that they're AMAZING, and just ask them - as a person who started out acting really young - how are they so good?! I wasn't that good as a kid - have the decency to be less good at acting, please!"
"Everyone said 'oh it's like E.T., The Goonies, Stand By Me... It's also TERRIFYING like none of those films are. It's really scary!" Radcliffe said.
Imperium is in UK cinemas 23 September, with Swiss Army Man released on 30 September.
Renee Zellweger and Colin Firth talk to Grimmy about the third Bridget Jones film.

Gemma Arterton pops in to chat about her new horror movie.