Main content
Beauty vlogger Jamie Genevieve's make-up mountain is 'over a lifetime's worth'
Ever wondered how much free stuff social media influencers get and what do they do with the leftovers?
Jamie Genevieve from Glasgow may be an inspirational beauty vlogger with over one million followers on Instagram but she has storage problems just like the rest of us. Mostly for the huge pile of beauty products she has accumulated.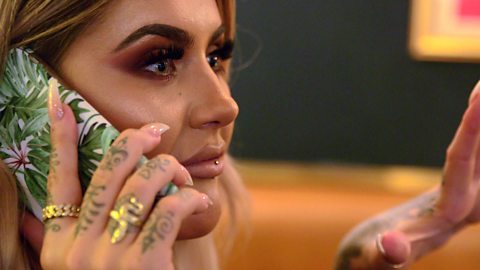 The beauty vlogger's first ever bespoke studio is well underway. But will she like it?
A new documentary series Jamie Genevieve: A Year in the Life followed Jamie and her partner Jack in the build up to their wedding in July 2019 and episode one sees the two lovebirds tackle some much needed home renovations.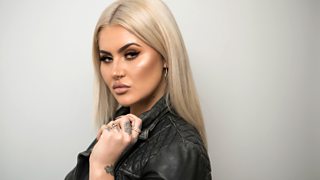 "The amount of make-up I get, it's impossible for one person to go through it in a lifetime"
As we see in the documentary, one of the challenges of being a beauty vlogger is the piles of products Jamie is sent to try out.
The hope by the manufacturers, or rather their savvy advertising gurus, is that Jamie will love the products and use them in one of her tutorials leading to potentially profitable sales for the brand in question.
It's a problem many young beauty-minded individuals would love to have.
"The amount of make-up I get, it's impossible for one person to go through it in a lifetime", says Jamie. "Let's just say I'm very popular with my friends."
Influencers are under increasing scrutiny to clearly label any posts which they have been paid to endorse a product. Adverts have to be 'obviously identifiable' - which is why you often see #ad on paid-for content.
The recent 2019 Love Island graduates had to be handed a guide to help them navigate the pitfalls of their new social media careers.
Despite her status as 'Scotland's biggest online personality', every week she has been filming her popular videos in a makeshift studio either set in the kitchen or the spare room. Pretty inventive for a former department store make-up counter girl.
As we see in episode one, Jamie is finally upgrading her workspace to include her own super-glam studio set complete with bespoke floor-to-ceiling armoire for all those gifted beauty products.
Scotland's social media stars
Jamie Genevieve: A Year in the Life
Latest features from BBC Scotland