Main content
Be on the show
Dare you sit in Graham's red chair?
It's become so iconic, you'll probably need no introduction to Graham's famous red chair. So notorious has the fliptastic seat become that Hollywood superstar Russell Crowe described it as his main incentive for making a guest appearance on the show!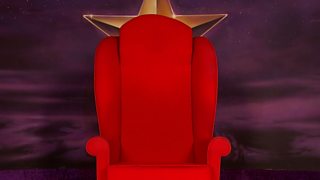 The notorious red chair
Of course, we couldn't keep the red chair moving and shaking without your stories, so if you've got an interesting anecdote that could keep graham's attention long enough to get to a hilarious punchline we want to hear from you. And this series you don't even have to come to the studio to tell your tale because we want stories brought to us by phone or computer, preferably with video too.
To apply for your place in the chair, send your contact details, your story and a few words about yourself to this email address:
Important: Your contact details will be retained by So Television, an independent production company that produces The Graham Norton Show for the BBC, so that they may contact you about appearing on the programme. Your details will not be retained after the current run of The Graham Norton Show has ended. Due to the volume of requests received, So Television may be unable to reply to everyone who contacts them.