Main content
The Canaletto of the North
As far as we know, Italian painter Canaletto never made it to Dewsbury. But if he had, we know now how he would have painted the West Yorkshire town...sort of.
Retired designer David Martin has painted his own version of one of Canaletto's famous Venetian scenes, except he's swapped out the ornate buildings on the Adriatic, replacing them with Dewsbury's skyline - dominated by the Town Hall.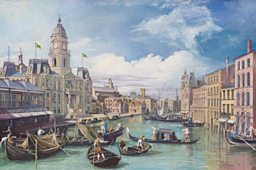 The 63-year-old said he did it "to highlight the beauty of the local architecture which is sometimes not appreciated and mostly overlooked."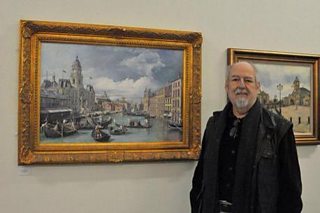 "The idea occurred to me while I was looking at a Canaletto painting of the Grand Canal in Venice and noticed that quite a few of the buildings were not unlike the Italianate warehouses on Bradford Road," he said.
He decided to paint the same canal scene from Canaletto's masterpiece but substitute all the architecture with buildings and features from Dewsbury - 28 in all. "Venice populated entirely with Dewsbury buildings would still be a beautiful place," he said.
"Dewsbury is a bit of a strange place, it's lovely but it gets a bit of bad press so I wanted to show off some of the best bits of the place."
It took him three months in 2013 to complete his masterpiece, which measures 3 1/2 ft by 2 1/2 ft. Martin has always painted, usually sticking to landscapes, seascapes and portraits.
"I love all sorts of artists, I particularly love John Singer Sargent's work but I've always admired Canaletto, ever since I visited Venice many years ago."
He is now working on another Canaletto-style painting, but this time of Leeds inspired by Venice's St Mark's Square.
"I hope that maybe some people will look at their town through fresh eyes and appreciate how lucky we are to have these architectural gems and ensure they are properly protected."
Paintings by David Martin