Main content
6 things we learned from Thom Yorke's interview with Matt Everitt
As part of 6 Music Celebrates Radiohead, Thom Yorke sat down with Matt Everitt to talk about OK Computer's 20th anniversary, their Glastonbury 97 performance, the band's early years and what he's up to at the moment.
The full interview can be heard in The First Time with Thom Yorke. Here are some of the highlights from their chat, along with quotes from Thom:
1. Radiohead's now legendary 1997 Glastonbury performance nearly didn't happen…
"I was like 'I can't do Glastonbury, I can't do it… No, I can't do it!' I'd burnt myself out making the record and the idea of having to put myself back… you know it was a weird time for me."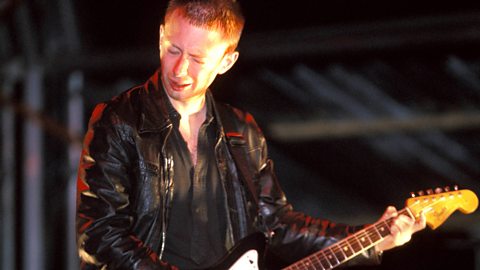 Radiohead's front-man wasn't entirely keen to perform at Glastonbury back in 1997.
2. Thom wrote more than 30 versions of the Paranoid Android lyrics
"I'd endlessly do different versions of the lyrics, there's like 30 or 40 different versions of Paranoid Android. I'd only change five words... It was like meditation, sitting on a bus somewhere. I'd write it out again and again and again."
3. Making OK Computer was one of the most intense periods of Thom Yorke's life
"What I found really fascinating was, the weird way in, was going through my notebooks at the time and just making friends with whoever this nutter was… Just pages of 'seriously mate, you need to take a break'. I was obsessive about taking notes, that was the only way to feel that I was making progress."
4. The first song he loved was Mungo Jerry's In The Summertime
"My grandma brought me Mungo Jerry - In the summer time… Oh man I still love that song! I saw the video they did for it, the chops on the guy? Wow! It's a great tune, it really is a great tune."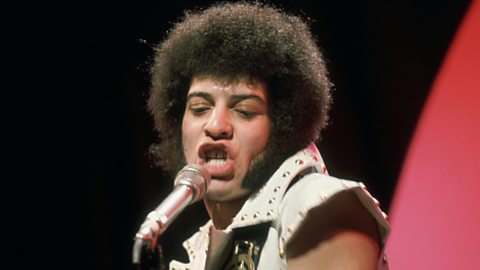 The Radiohead front-man talks to Matt Everitt about his earliest music passions.
5. The Suspiria Soundtrack is testing Thom's songwriting skills to the max
"It's hard because I'm way out of my comfort zone and I can't read music. It's not like I'm writing for orchestras, I'm building it all myself. It's exciting but at the same time I am so out of my comfort zone I don't know what's going on."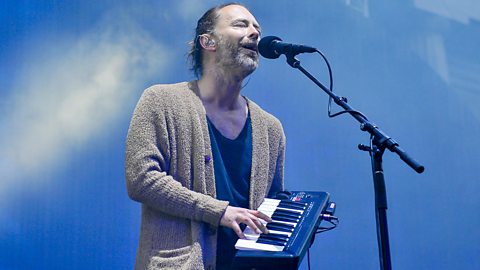 The Radiohead front-man has been looking to Vangelis for inspiration.
6. Thom wants to write more songs about politics
"It was this weird fight with myself 'Can I get away with this?' 'Is this the right thing to do, or should I write another lovey, dovey song about nothing in particular? Is that what the world needs, or has someone else got that covered?' I think so!"
The Radiohead frontman talks through his musical firsts in an exclusive interview ahead of their return to the Glastonbury Pyramid Stage.
Arguably one of the greatest sets at the Glastonbury Festival to date. Radiohead perform on the Pyramid stage, just two weeks after releasing their seminal album OK Computer.