Main content
The Woman's Hour Craft Prize 2017
As part of celebrations to mark the 70th anniversary of Woman's Hour, the BBC is delighted to launch The Woman's Hour Craft Prize 2017, in association with the Crafts Council and the Victoria and Albert Museum.
The applications for this Craft Prize have now closed. The 12 finalists was announced during Woman's Hour on Monday 22 May. To listen to all the Woman's Hour Craft Prize content, including interviews with all the 12 finalists, click here.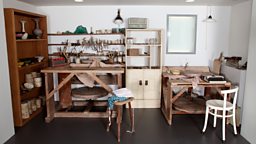 Lucie Rie's Studio. Photo © Victoria & Albert Museum, London / Lucie Rie
Can beautiful objects enhance your life?
Over the past 70 years Woman's Hour has championed and celebrated both the craft of listeners and of craft practitioners and in that tradition the launch of the prize coincides with the celebrations for the anniversary year.
Woman's Hour will cover highlights of the crafting calendar, profile the history of the seven craft prize entry categories, interview the finalists, reflect the impact craft can have on health and innovation, and celebrate craft on air through exhibitions, discussions, demonstrations and interviews with practitioners, hoping to inspire our audience to make and create.
The Prize
The Woman's Hour Craft Prize 2017 aims to find and celebrate the most innovative and exciting craft practitioner or designer-maker resident in the UK today in the most comprehensive prize of its kind. Applications opened on 1 November, 2016 and are now closed.
The prize will be judged by experts in the craft field, with twelve finalists exhibiting their work at the Victoria and Albert Museum and in a planned touring exhibition of the shortlisted work.
An overall winner will be chosen from the twelve exhibiting finalists and awarded a prize of £10,000 at a ceremony in November 2017. The prize will reward originality and excellence in concept, design and process and will seek to recognise an outstanding craft practitioner or designer-maker with a track record of public display or showcasing of their work, and who has demonstrably contributed to craft practice in the last five years.
Applications for the Woman's Hour Craft Prize 2017
Meet the judges
Ceramics
Alun Graves, Senior Curator, Ceramics and Glass Collection, V&A
Jenni Lomax, Director, Camden Arts
Helen Walsh, Curator of Ceramics, York Art Gallery
Daniella Wells, Events Consultant with craft specialism
Metal
Catrin Jones, Curator of Decorative Arts, The Holburne Museum
Simon Fraser, Course Leader, Central Saint Martins, University of the Arts London
David Mills, Director of Goldsmiths' Fair
Oliver Makower, Vice-Principal, Bishopsland Educational Trust
Furniture and Wood
Grant Gibson, Editor of Crafts magazine
Corinne Julius, writer and curator
Martina Margetts, Royal College of Art
Professor Jeremy Till, Head of Central Saint Martins, University of the Arts London
Glass
Maria Amidu, artist
Kim Mawhinney, Head of Art, National Museums Northern Ireland
Sarah Rothwell, Assistant Curator, National Museums Scotland
Julia Stephenson, Head of Arts, National Glass Centre
Other
Deirdre Figueiredo MBE, Director, Craftspace
Philip Hughes MBE, Director, Ruthin Craft Centre
Polly Macpherson, Associate Professor – Design, Plymouth University, Faculty of Arts & Humanities, School of Art, Design & Architecture
Annie Warburton, Creative Director, Crafts Council
Jewellery
Annabelle Campbell, Head of Exhibitions and Collections, Crafts Council
Alastair Hudson, Director, mima
Clare Philips, curator, V&A
Helen Ritchie, The Fitzwilliam Museum
Textiles
Professor Carole Collet, Design for Sustainable Futures, Central Saint Martins, University of the Arts London
Professor Lesley Millar MBE, Director of the International Textile Research Centre and Professor of Textile Culture at the University for the Creative Arts
Professor Carol Tulloch, Chelsea College of Arts, University of the Arts London
David Weir, Director, Dovecot Studios
Listen to some crafty Woman's Hour archive