Main content
The Super Swing Package: Pro-Am at Wentworth
***This auction is now closed***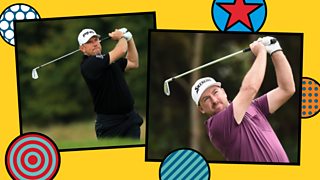 Auction Date: Wednesday 14th November 2018
Event Date: Monday 16th September – Sunday 22nd September 2019 (Pro Am is Wed 18th Sept 2019)
In Studio Phone Auction Telephone Number - 0345 609 22 11
(Standard geographic charges from landlines and mobiles will apply)
The Top four bidders will enjoy a Golfing week like no other!
Three games, one goal - to win!
Your inter-tournament will begin on Monday 16th September 2019 with a round of golf at Sunningdale Golf Club in Ascot, including Halfway House Sausages and Lunch in the Clubhouse.
After play, you will check-in for the first of seven nights stay at the 5-Star luxury country hotel, Coworth Park in Berkshire.
On Tuesday 17th September 2019 you'll meet Chris & Vassos again at the private member's golf club Swinley Forest for an afternoon tee time – the course will be a true test of skill to all comers with it's deceptively long and undulating greens.
Your three days of play will culminate at The BMW PGA Championship Celebrity Prom-Am on Wednesday 18th September 2019 at Wentworth Golf Club. On arrival you will meet your pro's – Lee Westwood & Graeme McDowell for an afternoon four-ball tee time. There will be enough time for a post-game pint in the clubhouse, before the Pro-Am Prize Giving and Supper in the Hospitality Pavilion.
Team 1: Chris Evans and Graeme McDowell
Team 2: Vassos Alexander and Lee Westwood
Plus, you'll receive season passes to the PGA Championships from Thursday 19th – Sunday 22nd September 2019, with access to the Hospitality Pavilion throughout overlooking the 18th Green – for you and your guest.
You will be chauffeured to Wentworth on Friday 20th September 2019 for Day 2 of the Championships.
Your package will also include a motion analysis and custom fit session at the Taylormade Lab at Wentworth, after which you will be sent your special set of custom fitted clubs with all the trimmings.
You and your guest will also receive Passes to the VIP Hospitality Terrace overlooking the Show Stage for both concerts on Saturday and Sunday nights after play for an unforgettable night of music.
Finally, on the Sunday you will have a photo opportunity with the newly crowned winner of the 2019 Championships.
Graeme McDowell
Born on 30th July 1979. he first picked up a golf club at seven when his dad, Kenny, would take him and his younger brother Gary to the local pitch and putt. He honed his game at Royal Portrush then, in a stellar amateur career, played in the 2001 Walker Cup and, while studying at the University of Alabama, was ranked Number One Collegiate Golfer. He first played on the European Tour in 2002, winning in his fourth start and has won a further nine times, most famously in 2010 when he ended a 40-year wait for a European winner of the U.S. Open at Pebble Beach. Finished a career-high second in the 2010 Race to Dubai and came close at the U.S. Open again in 2012, finishing runner-up at Olympic Club. He has played a key role in four Ryder Cups, taking the winning point at Celtic Manor in 2010 and was awarded an MBE in the 2010 New Year's Honours List.
Lee Westwood
Raised in Worksop, Nottinghamshire, he began golf aged 13 with a half set bought by his grandparents. Lee turned professional in 1993, winning his first of 23 European Tour titles in 1996. He became the eighth Englishman to lift the Harry Vardon Trophy on two occasions or more, having won it in 2000 and 2009, and reached World Number One in 2010, ending Tiger Woods' five-year reign at the top and is second only to Sir Nick Faldo in the list of England's most prolific champions. He has finished runner-up three times in Major Championships and has made ten appearances in The Ryder Cup for Europe, winning on six occasions, and claiming 23 points.
Requirements
Accommodation at Coworth Park Hotel is for 7 Nights from Monday 16th September – Monday 23rd September 2019 and is on a Bed & Breakfast basis only. Check out on Monday 16th September 2019.
Practice round at Sunningdale Golf Club has been arranged by the European Tour and details for this will be sent out in due course. Tee Time will be afternoon.
Golf at Swinley Golf Club will be an afternoon Tee-time. Actual time to be confirmed closer to the date.
Courtesy of Coworth Park included, is 1 x Dinner for two in the Restaurant Coworth Park with glass of champagne. This dinner will be on Friday 20th September 2019.
Transfers will be on Friday 20th September from Coworth Park Hotel to London Return. All other transfers will be the responsibility of the successful bidder.
TaylorMade Fitting will be on a date suitable for the auction winner, and every effort will be made to receive the kit before the Pro-Am itself. TaylorMade Technical Centre is based at Wentworth Club.
All monies must be received within two weeks of the auction closing date. Staff at BBC Radio 2 and BBC Children in Need will ensure all Auction Items are claimed and paid for within two weeks of the auction closing date. Neither the BBC nor BBC Children in Need can accept any liability for payments not received as a result of failures in the postal service or otherwise.
Privacy notice
The BBC complies with the provisions of the Data Protection Act 2018 and the General Data Protection Regulation 2016/679 in processing personal information. BBC will collect and process the personal information that you have provided about yourself which will include your name, contact details. The personal information that you provide will be processed for the purposes of fulfilling the auction and the auction Items. The legal basis on which the BBC processes your personal information is for the legitimate interests of the BBC in fundraising for BBC Children in Need and we don't believe this unreasonably impacts on your rights and freedoms. The BBC will retain your information for twelve months. BBC will share your details with BBC Children in Need for the purpose of BBC Children in Need contacting winning bidders to arrange payment for their item. For the BBC's privacy policy, please see www.bbc.co.uk/privacy.
BBC Children in Need complies with the provisions of the Data Protection Act 2018 and the General Data Protection Regulation 2016/679 in processing personal information. BBC Children in Need receive your name and contact details from the BBC as set out above. The personal information will be processed for the purposes of fulfilling the auction Items. The legal basis on which BBC Children in Need processes your personal information is our legitimate interests of fundraising and we don't believe this unreasonably impacts on your rights and freedoms and fulfilling the auction Items. BBC Children in Need will retain your information in accordance with its retention policy an extract of which is available on request. BBC Children in Need will share your details with a third party who fulfils auction Items on behalf of BBC Children in Need. For more information including in relation to your data protection rights please see the BBC Children in Need's privacy policy. If you have any worries or complaints about the way we use your information, please don't hesitate to get in touch with us. BBC Children in Need's contact details are here.
Children in Need 2018
A celeb-filled day of fun dedicated to the amazing work of Children in Need.

Find out all about Children in Need, including how your money improves children's lives.

Make a donation to Children in Need 2018 (By clicking this link you will be moving to the BT MyDonate web page. Please note that this is subject to the BT My Donate Terms & Conditions and Privacy Policy).