Main content
The Witterlist - 21st February 2020
Like our very own Michael Douglas and Charlie Sheen, Mark and Simon finally got to decide whether or not Greed is indeed good this week, as Steve Coogan and Michael Winterbottom's new film came to UK cinemas.
The Interview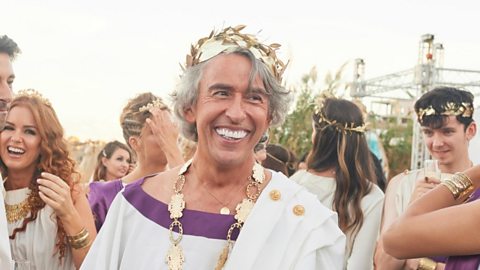 Simon Mayo and Mark Kermode talk to Steve Coogan about his new film, Greed.
We were very fortunate to have Steve join Mark and Simon in the studio for this week's show, where he and Mark caught up on their Manchester connection and Steve told us all about satirising the rich and powerful, his working relationship with writer/director Michael Winterbottom and the challenges of getting worthy messages through to people through films.
Greed attempts to meld starkly different styles into one, cohesive story – one part broad comedy, one part commentary on the global wealth gap – and Mark wasn't sure it was entirely successful in marrying them together. However, it is consistently funny, very well cast and with an anchoring central performance by Steve Coogan.
Disney's The Call of the Wild is the latest adaptation of Jack London's 1903 novel of the same name. This time around it stars Harrison Ford as the ageing would-be adventurer John Thornton, who heads out into the Alaskan Yukon with a trusty (and in this case, computer generated) St. Bernard dog called Buck, who wants to find his place I the world. A lot's been said about the unnerving or unconvincing look of Buck, but Mark found it charming, with a positive message and a satisfying family movie feel.
Little Joe is a sci-fi chiller and psychological satire co-written and directed by Jessica Hausner. Emily Beecham stars as a plant breeder that breaks the rules by giving an experimental new species as a gift to her son. A twisty, paranoid and creepy film that might not win everyone over, Mark's seen it more than once and on different viewings left with different conclusions about what was going on, but one thing that has stayed the same is he was very, very impressed by it.
Mark really enjoyed Like a Boss for five minutes. Like a Boss has an hour and twenty-four-minute runtime.
Next week
Next week Mark and Simon take a break, but Robbie Collin and Ben Bailey 'Baby' Smith will be in the studio, with Elisabeth Moss joining them to talk about her role in Blumhouse's new adaptation of The Invisible Man.
Mark Kermode joins Simon Mayo to give his verdict on the week's movies