Main content
10 surprising things we learned from Billie Jean King's Desert Island Discs
Billie Jean King – queen of the '60s and '70s tennis courts and winner of 39 Grand Slams – is one of the most successful players of all time. She has also entered the halls of fame as an activist and advocate for gender equality, LGBT rights and social justice. And she has led the way for women in sport, founding the Women's Tennis Association and the Women's Sports Foundation. Here are 10 surprising things we learned from her interview with Kirsty Young…
1. She's met every artist on her track list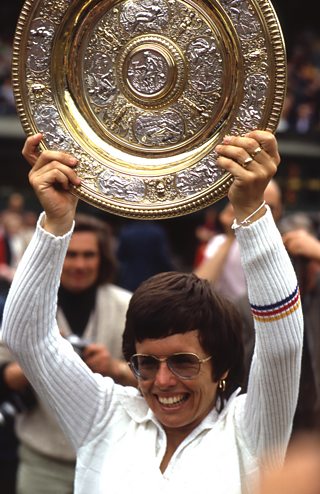 Billie Jean King after winning Wimbledon in 1972.
Billie Jean says choosing just eight discs drove her insane, because she wanted 100 of them. "Relationships are everything," she says, deciding to include music only by people she's met. Through the course of her interview we discover that Diana Ross, Katherine Jenkins, Elton John and Paul McCartney are on the star-studded list of people who made the final cut.
2. She says girls are brought up to be perfect and boys are brought up to be brave
Billie Jean says, as a girl, she became furious that she wasn't allowed to play American football. "My mother was always worried about me being a lady at all times." But Billie Jean argued back: "What does that really mean?" For her first track she chooses Respect by Aretha Franklin. "It was in the '60s. We were just beginning the women's movement and this song, Respect – R-E-S-P-E-C-T – was so important… I think it made women stand up a little straighter, [and gave them] a little more self-confidence."
3. Her former husband Larry introduced her to feminism
They were walking hand-in-hand across the campus at California State University, Los Angeles when he asked her if she knew why it was she couldn't get a grant to the school or a scholarship. "He said 'you're the best-known person at this whole school of 20,000 students… you're the best athlete here. He says, 'I get a tennis grant and I'm the seventh guy on a six-man team' – he was hilarious – 'and you can't get any of that because you're a second class citizen – and why? Because you're a girl. And that is wrong.' And boy when he said that, I knew it anyway, but here's a male having that enlightenment. It was quite unusual, and I think it still is."
4. Her firefighter father taught her to care less about winning
Billie Jean describes her parents as kind, hardworking, very strict but very loving. She says she and her brother Randall were very aware of what they gave up for them and that they were lucky. "One of the best things they did for us was, they didn't care how good we were." She says her dad would calm her down and just tell her to try her best and practise when she'd come home furious after losing. "I was crazed, my poor parents." But, she also says: "They weren't perfect, they were homophobic, so later in my life that was a challenge."
5. She was 51 before she finally felt comfortable with her sexuality
In 1981, Billie Jean was very publicly outed when Marilyn Barnett, an assistant she'd formed a relationship with, sued her for palimony. She lost all her endorsements overnight and had to argue with her lawyer and publicist for hours to get the press conference she wanted. "All the media was there, I walked in, Larry was there, my parents came up, they didn't know what was happening, it was terrible... So I said, 'I did have an affair with Marilyn Barnett' and you could have heard a pin drop." She says that despite her parents' difficulties with her sexuality, it was the honesty of her upbringing that ultimately compelled her to open up. "It was probably in some ways a good thing I got outed, because when would I have ever come out? I don't know." But she says she didn't cope well at the time, and that it took 25 years of speaking to psychotherapists to help her through it: "They saved my life."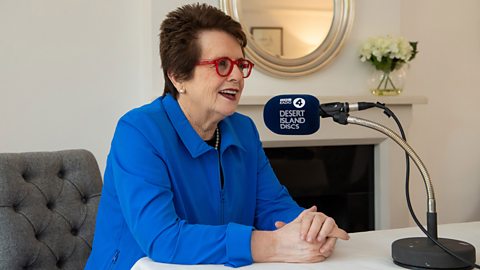 Billie Jean King recalls playing the game for the first time.
6. She'd never heard of tennis when a friend first invited her to play
Billie Jean was about 10 years old when she first played tennis. Her best friend Susan asked her if she wanted to play, but Billie Jean didn't know what it was. Upon finding out she would get to run, jump and hit a ball, she was hooked: "Those are my three favourite things in sport… Let's go!" Her parents couldn't afford to join a tennis club, but Billie Jean discovered there were free lessons nearby: "That's the moment when I told my mum I know what I want to do with my life – I want to be the number one tennis player in the world". At home she told her dad she needed to get a racquet, but her dad wouldn't buy one for her. He said: "You say you really love it, you like it, let's see how much." Billie Jean's neighbours made up jobs for her and paid her. She kept saving until she had $8.29 and couldn't wait any longer. She bought a purple racquet and loved it so much she took it to bed with her.
That's the moment when I told my mum I know what I want to do with my life – I want to be the number one tennis player in the world.
7. She picks a song written specially for the film about her 1973 match against Bobby Riggs
Billie Jean's fifth track is If I Dare, sung by Sara Bareilles. It was recorded for the movie Battle of the Sexes, starring Emma Stone and Steve Carell. It's about a "tiny sliver" of her life, when she played former champion and self-confessed male chauvinist Bobby Riggs, who, at the age of 55, challenged Billie Jean to a match. She rose to the challenge and won. "When he jumped the net, he said 'I underestimated you'. And I think that's what a lot of people feel about women and others and people of colour… don't underestimate anybody, ever, ever – my dad taught us that. Always respect your opponent and never ever underestimate anybody in your life."
8. She wonders if being a leader held her back as a player
Billie Jean says she didn't take time to enjoy her sporting victories because she was so busy trying to change the game. "I don't know how good I could have been as a player, because I was always having meetings. I'm the leader, it's my job – they always elected me the leader, even in elementary school… I'll never know, I think I'm still so lucky compared to most players – 39 grand slams, wow. But… I don't know."
9. She inspired a song by Elton John
Billie Jean first met tennis fan Elton John in the early 1970s and struck up a long-lasting friendship. In 1974 Billie Jean played for the Philadelphia Freedoms tennis team, and Elton would go to the matches: "He would cheer and go crazy …and he told [his lyricist] Bernie Taupin – 'Bernie, I'm writing a song for Billie and I'm going to call it Philadelphia Freedom'." The song topped the American charts in 1975, and is – perhaps unsurprisingly – Billie Jean's sixth choice of disc.
10. In 2009, President Obama awarded her the Medal of Freedom
Billie Jean says it meant a lot to her because it was the first time a US President mentioned the LGBT community, or sexuality. "And also I was the first woman athlete, which I find extraordinary – see that's what gets to me, it's good news/bad news: they have awarded so many male athletes I cannot tell you – it's amazing how far women still have to go", says Billie Jean. "When you read history you'll think it's gone very fast, but when you live it, it's so slow."