Main content
About
We are on a mission to meet some of the UK's funniest comedy talent
by Laura Ellis, Head of Digital for English Regions
Are some places funnier than others? What's uniquely funny about Maidstone or Gateshead or Dudley? As a comedian, how does growing up and developing your comic voice in a particular location feed into what you say, the jokes you tell, who you are on stage?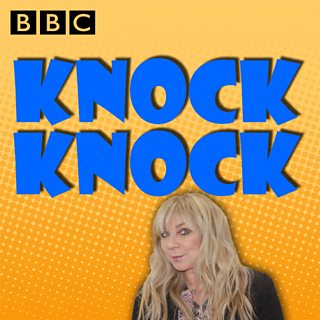 When you think of Ken Dodd, Lenny Henry, Victoria Wood, Tommy Mundon, you immediately locate them in Liverpool, Birmingham, Lancashire, and the Black Country. Not just because of their accents but because their comedy was so firmly rooted in the experience of being from and living in those places; the glorious lunacy of Knotty Ash, the brilliant observations around growing up black in 70s Birmingham, 'doing it' in Lancashire and taking a quiet pride in the Black Country's tinder dry, deadpan humour.
We've launched a brand new Comedy podcast that will see comedian and comedy writer, Helen Lederer, seek to get inside the minds of comedians from across England.
It's being made by BBC English Regions, who produce the BBC's local and regional content, and kicks off with an episode featuring Kent comedian Angela Barnes. Following that we'll premier a new episode every two weeks.
We wanted to make a podcast that honoured the fine tradition of comedy in locality. And that's where 'Knock Knock' comes in.
On a journey
When Rachael Smith, from our digital radio team in Birmingham, first suggested it we knew it was a podcast we wanted to make. Working with producer John Ryan from 2ZY and brilliant, wickedly funny Helen, we've dug into the rich and fertile soil that feeds Britain's comedy.
The episodes take listeners on a journey all over England looking into the comedy psyche of some of the funniest people around. Helen guides listeners on her journey across the country, providing expert knowledge of the local comedy scene and as someone who is familiar with what makes comedy funny, talks to her guests about what makes them tick.
In the coming weeks the podcasts will feature comedians including Angela Barnes from Kent, Ben Van der Velde from Newcastle; Cerys Nelmes from Cotswolds; Emmanuel Sonubi from London; Adele Cliff from Cambridge, Craig Deeley from Birmingham, Alex Oliver from Norfolk; Sarah Keyworth from Nottingham, Vince Atta from Manchester, Scott Bennett from Yorkshire, James Alderson from Portsmouth and Harriet Dyer from Cornwall.
I really hope you love 'Knock Knock' as much as we do. We'll range far and wide across this 'grin and pleasant land' (the jokes are so much better than this one) getting under the skin of some fabulous comedians that we know you'll love.
Let us know what you think of the BBC's Knock Knock podcast by leaving a review or rating or by using #BBCKnockKnock on social media. You can get in touch with the Knock Knock team by email at knockknock@bbc.co.uk.