Main content
Why you need to listen to The Receipts, the podcast with no filter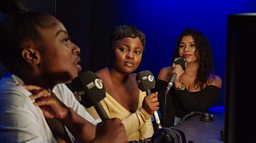 By El Hunt, 17 August 2018
Everybody needs a person who's willing to be real with them. Well, with The Receipts podcast - hosted by Milena, Tolly T and Audrey - you get three for the price of one. The unadulterated trio are taking over 1Xtra for six instalments of filter-free chat, X-rated debate... and the occasional mass singalong.
There have been two episodes so far on XtraChat. Episode one saw them navigate the hazy realm of summer dating, while the second instalment was all about micro-aggressions (everyday instances of discrimination). Listen, download and subscribe here.
This Sunday (19 August), the brilliantly blunt hosts bring their hot takes to 1Xtra Talks too. Tune in from 9pm.
Before making the leap over to 1Xtra, The Receipts already amassed a sizeable following by solving some of the most scandalous dilemmas with their trademark brutal honesty. Since its launch in October 2016, they have taken on big and bold issues head-first with wit and wisdom.
Here's why the podcast is well worth the hype. Real talk, no filter...
[Warning: Contains language which some may find offensive]
It provides an important space for women of colour
During virtually every episode, Milena, Tolly T and Audrey shine a spotlight on important issues facing women of colour. In one episode, they invite designer Irene Agbontaen onto the show to discuss Colourism in the workplace and cultural appropriation in the fashion industry. They have another episode simply titled 'Racism', while also tackling topics like interracial dating.
"I listen to a lot of podcasts and I found that they was nothing out there which spoke about my experience as a black British woman," Tolly says. "That's one of the reasons we wanted to create The Receipts."
Audrey agrees: "There was very little in the UK where women of colour were speaking openly and unapologetically."
The trio, Tolly says, wanted women of colour to "hear voices that sounds like theirs, and to hear experiences that made them say, 'oh, I thought it was just me.' I don't think we should ever underestimate the power of seeing yourself."
They take on some unusual topics...
As well as vital issues, The Receipts also covers utterly bizarre aspects of modern life.
The podcast itself takes its name from a Whitney Houston quote, with host Tolly T saying in an interview: "We thought, actually, receipts are proof and here is the proof of what we've been through". Luckily, The Receipts keeps the receipts for… well, everything.
In just under two years, the trio have broached topics ranging from the dental hygiene of office co-workers and the age-old debate of *NSYNC vs Backstreet Boys. They have also debated their (almost sacrilegious) hatred of Game of Thrones and how they would respond to a guest proposing at their own wedding (they would call security, obviously).
"We always get the strangest emails, but it's great as it makes us feel like our lives are normal!", Milena says, while Audrey names the time they heard from "a young man who was jealous that his girlfriend's male best friend made her a rumba mixtape" as one of their most bizarre moments to date.
Listen to one episode and you'll find answers for a whole load of questions you never knew you had. Just one tip though: it's probably not wise to tune into The Receipts when your nan is round for dinner, because you never know where the discussion will go next...
You can't say they're not honest
Usually, you'd expect Agony Aunts to side with those seeking advice. Not with The Receipts, though. Nope, the trio don't take any nonsense; not even from their listeners...
When one man sought advice about a love interest who called him in the middle of the night, they didn't have much time for him. In the end, they sided with the girl instead. Their episodes come with the disclaimer, "We are not liable for any feelings hurt while listening" - and they really mean it.
"I think part of the reason people love the show so much is because of the brutal honesty aspect," Audrey argues. "The listeners can spot what's genuine and what isn't."
Tolly thinks so too, and suggests that new mediums like podcasts provide a platform that "allows people to be more audaciously themselves, which is so refreshing".
...And now, they're taking over 1Xtra!
As part of XtraChat - a show where the station joins forces with podcast makers for special collaborations - The Receipts is set to be a regular fixture over the coming weeks. For six instalments, Milena, Tolly T and Audrey will be solving the worries and niggles of 1Xtra listeners.
So, what's still to come? "More talking, more guests, laughter with plenty of educational undertones," Tolly says, adding: "I still can't believe the BBC let us on their channel."
Listen to The Receipts on 1Xtra...