Main content
Searching for football's future stars at the top of the world
The beautiful game can provide incredible opportunities to see the world.
Like many professional footballers, Davie Robertson travelled throughout Europe during his career. When his playing days ended, the former Aberdeen, Rangers and Leeds United left back moved into management. He travelled even further, thousands of miles from home, to take up the reins at Real Kashmir – a club in the heart of a conflict zone.

"You start kicking a ball and you end up on the other side of the world," says Davie in Return to Real Kashmir FC.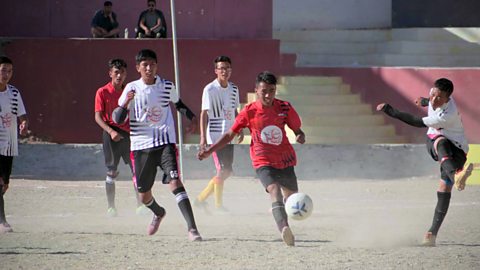 Davie Robertson reflects on the opportunities football has given him.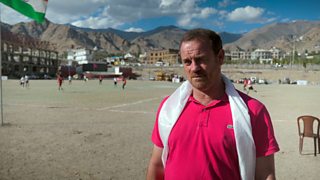 Davie Robertson, Head Coach at Real Kashmir FC
Before the new season kicks off, Davie takes the opportunity to explore Leh Ladakh, a remote part of the the Himalayan mountains at an altitude of 3500m.

Taking in the sights of the town which has been deeply influenced by Buddhist culture, Davie reflects on the impact football has had on his life.

"I've been fortunate that I've had to come here," he admits. "Because you end up seeing so much more than you probably would have [by coaching in] Coatbridge and Dingwall."

But not every football-mad youngster will be granted the same opportunities to see the world as Scotland cap Davie has had. Scouting for future stars at a local youth match the coach is quick to notice how poor playing conditions can hinder young talent.

The circumstances mean Davie leaves without any new signings. It seems that the boys' hopes of football stardom and all the life-changing prospects it brings have been dashed.


Documentary in which former Aberdeen and Rangers star Davie Robertson returns to India to manage Real Kashmir FC. It's football in the danger zone - can he make it work?
The Scot manages Real Kashmir FC in one of the world's most dangerous areas.
Latest features from BBC Scotland