Main content
BBC Local Radio and RHS Design A Garden Competition
BBC Local Radio and RHS Design a Garden Competition 2016 - The results
Earlier this year, BBC Local Radio and the RHS called upon amateur gardeners and aspiring garden designers to take inspiration from their local area to design a "Feel Good Front Garden" that could be built at the RHS Hampton Court Flower Show in July.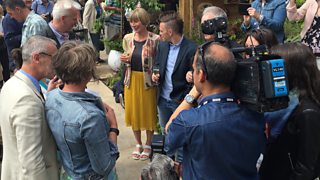 The winners gather at RHS Chelsea Flower Show
We received entries from every part of the country - four of which were carefully chosen by renowned designers Ann-Marie Powell and James Alexander Sinclair along with a panel of judges.
Each winner has been given the opportunity to work with a professional mentor to create the garden in time for RHS Hampton Court Palace Flower Show.
Below, you can get a taste of the four gardens and see photos of the winning designers.
They come from Bristol, Kent, Cornwall and Manchester.
Bristol Fashion
Designed by: Simon Judge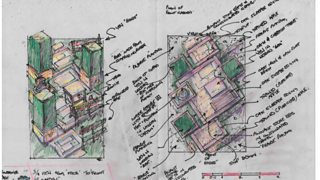 Garden: 'Bristol Fashion'
Local radio station: BBC Radio Bristol
Simon's design takes inspiration from SS Great Britain, a revolutionary vessel of its time, built in Bristol and designed by Isambard Brunel.
Echoes of the past can be found in this front garden and a full time trainer for the civil service.
Simon is a keen gardener and a full time trainer for the civil service.
'Tre Wostiwedh' (Home at last)
Designed by: Jenny Booty, Lizz Dobinson, Nicky Shellis and Tim Walker from the Eden Project Learning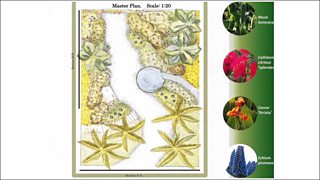 Garden: 'Tre Wostiwedh' (Home at last)
Local radio station: BBC Radio Cornwall
The design is centred on Cornwall's tin mining history, in particular on the miners who worked all day with no sight of the beautiful landscapes and fresh air synonymous to Cornwall.
The garden is reminiscent of the lush, brightly coloured exotic sancturary featuring tropical planting which can be supported by the Cornish climate.
Jenny, Lizz, Nicky and Tim are all passionate about gardening and are enrolled on a HND Garden and Landscape Design course with 'Eden Project Learning'.
Beachscape Oyster Garden
Designed by: Sarah H Morgan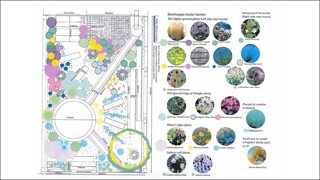 Garden: 'Beachscape Oyster Garden'
Local radio station: BBC Radio Kent
Sarah's design takes inspiration from Whitstable and the North East Kent Coast landscape.
As you leave the front door a wooden path takes you on journey from land, across beach to the water's edge passing beautiful costal elements and soft planting.
Sarah is interested in the need to put the 'green' back into our urban areas and the 'wild' back into our gardens.
She is looking to embark on a career in garden design.
Fancy a brew? Take a Pew
Designed by: Lee Burkhill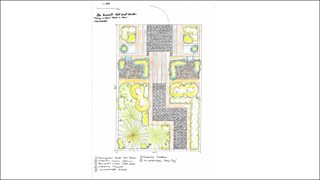 Garden: 'Fancy a brew? Take a Pew'
Local radio station: BBC Radio Manchester
Lee's design takes inspiration from Manchester's rich industrial heritage and community spirit.
With a cobbled garden path symbolic of the famous Coronation Street cobbles and water echoing the soothing sound of the Manchester canals.
Neighbours are encouraged to socialise and 'have a brew', making the most of their front garden space.
Lee has worked as an IT project manager in Manchester for the past 12 years, however his real passion is gardening.
More about the competition
Information about the judges:
James Alexander-Sinclair began his career as a landscape contractor in London. Since then he has designed gardens all over the world from the South of France to the Western Isles as well as award winning gardens at RHS Chelsea Flower Show. Both a renowned writer and TV presenter, he is also a gardens judge and a member of the Council of the RHS.
Ann-Marie Powell is an award-winning garden designer, TV gardening presenter, journalist and author, who divides her time between designing amazing gardens for private clients, companies and charities, and enthusing people about gardening through her books, TV appearances and articles in national newspapers and magazines.
Why Front Gardens?
One in four front gardens are now completely paved over and our modern streets are, for the first time, more grey than green.
The four gardens chosen in the BBC Local Radio Garden Design Competition show how plants and good design can have positive effects on people's health and happiness