Main content
Eriskay Football Club: the beautiful game with views to match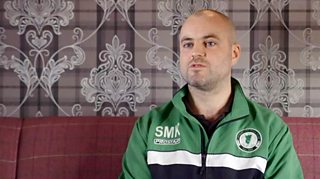 It's not exactly... flat.

Sean MacKinnon, player-manager, Eriskay FC
On a small island off the west coast of Scotland, they're bringing new meaning to the phrase 'the beautiful game'.

Despite a population of fewer than 150, the stunning island of Eriskay in the Outer Hebrides has a dedicated football club with its own pitch — but one that would make most ground staff wake up in a cold sweat.

"It's hard to play football on Eriskay," says player-manager, Sean MacKinnon, "because the conditions aren't always ideal.

"The pitch is different from most pitches most people have played on before. It's not exactly... flat. There's a wee hill in the corner."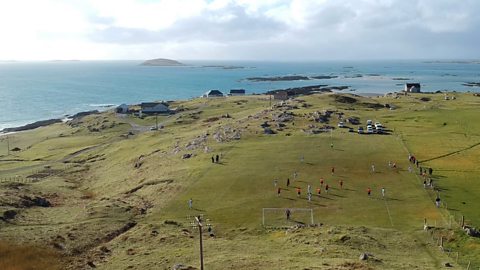 It's wild, it's remote and the pitch is small and bumpy.
The pitch was recognised by Fifa as one of the eight most remarkable places to play football in the world. The organisation also shot a film about it for their football museum in Zurich.
It's pretty much 'If you're from Eriskay, you play for Eriskay'.
Sean MacKinnon, player and manager of Eriskay FC doesn't have to look far for advice as many of the team's previous managers are still on the island and continue to play for the team. One example is Cherry MacAulay, who takes a dim view of anyone complaining about the state of their pitch.
"You can't slag the pitch off: it's recognised from Fifa. If you can't play football on a wee bumpy pitch, you shouldn't be playing."
Visited by Scottish football show A View From the Terrace, the players can be seen shouting and passing the ball with the usual fervour as mythical-looking white ponies scamper nearby and hazy mountains form a bold backdrop.
But it's certainly not idyllic at the start of the season. After a winter of animals roaming across the pitch, there's some mucking out – and plain talking! – to be done:
"The first job of pitch maintenance is sh*t clearance."
Latest features from BBC Scotland