Main content
Ali Plumb reviews Rocketman
A riotous romp through the biggest moments in Elton John's life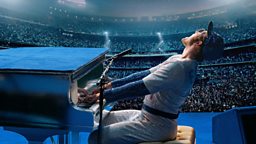 Rocketman ⭐️⭐️⭐️⭐️⭐️
In this fantasy musical biopic – yes, you read that correctly – Elton John's early days are brought to vivid, vibrant, technicolour life by director Dexter Fletcher and his star, Taron Egerton, who plays The Artist Formerly Known As Reggie Dwight as he goes from gawky prepubescent piano prodigy to multi-platinum musical marvel over the course of just a few short years. Jamie Bell is his lyricist and best friend Bernie Taupin, with Richard Madden as his manager and one-time lover John Reid and Bryce Dallas Howard as his disinterested mother Sheila Eileen.
Third party videos may contain adverts
Pros:
After the enjoyable and efficient (but visually uninspiring) Bohemian Rhapsody gave us a pedestrian "Wikipedia-page-come-to-life" rock biopic last year, in comes Rocketman, kicking a rehab clinic's door down dressed as an orange-coloured angel and declaring "For as long as I can remember I've hated myself". This is a bold, brilliant film that does justice to one of the most dramatic and dazzling human beings in existence by serving up close to a dozen beautiful (and pleasingly bonkers) musical sequences, refusing outright to "just play the hits". Every time one of John's songs is sung, it's delivered in an appropriately out-there way, whether it's at the bottom of an impossibly large swimming pool or literally lifting an audience off its feet at The Troubadour, and as an Elton fan, it just makes your heart soar. This film is flashy, fantastic and loud (in a good way – depending on your taste, of course).


Taron Egerton is excellent as The Rocketman himself, capturing his mannerisms and recreating his singing voice in a way that feels real and relatable, even in amongst the gaudy excess that characterises Elton John's public persona. But the whole cast does good work, notably Jamie Bell as Bernie Taupin, fuelling my ongoing suspicion that Jamie Bell is just casually great in everything he's in.


Magnificent, absurd, inventive, clichéd, flamboyant, joyous, camp, cartoonish, contrived, inspirational, incredible, odd, fun, cute, emotional, spectacular, entertaining, gleeful, distressing… Rocketman manages to be so many things all at once, an avalanche of excess, and one that – depending on your taste – could delight or annoy its audience. It's just so thoroughly enjoyable, so out-there, so itself that I was simply swept up by it. It has its problems, there is no doubt – see the "Cons" section below – but it's also just so winning, I found myself looking forward to watching it again, as I was watching it, and that's perhaps one of the biggest compliments I can give a film.
Cons:
Co-produced by team Elton under his "Rocket Pictures" banner, Rocketman is undeniably his story, his view, his perspective, playing with the idea of an unreliable narrator by showing his past through rose-tinted, heart-shaped spectacles. Well, that's not quite right: the aim here is not to dance around the nastier parts, but to tell them how Elton remembers them, with all the saccharine sincerity that might entail. Essentially, this is myth-making par excellence, a riotous romp through the biggest moments in John's life, but you can't in any way interpret it as the absolute God's honest truth. This is undeniably a big and barmy extension of "Brand Elton", and it's a very enjoyable one at that.


The problem with telling the whole story of a person's life is how much you have to leave out, and there's a lot they have to leave out here. This is often a "hop skip and and jump" through what needs to be said, and occasionally you're in dire need of more time to savour the drama and appreciate the moments as they fly past.
If you don't like Elton John's music, or musicals, or fantastical flights of fancy, or Elton John himself, then maybe… maybe this isn't the film for you. Like I say, it's the Elton John movie made by Team Elton John, and it's, well, very Elton John.


Three word review: Beautiful, bold, brilliant
Ali Plumb reviews all the biggest releases and goes behind the scenes with Hollywood stars.