Main content
A Midsummer Night's Dream: Immerse yourself in surround-sound Shakespeare
A sparkling modern take on a Shakespeare classic, Russell T Davies's adaptation of A Midsummer Night's Dream sees a cast of acting royalty and wonderful new talent bringing the Bard's words to life in a new way.
It was only fitting, therefore, that we should also find a new way to use the soundtrack to enhance the drama and make the most of the beautiful dialogue.
The soundtrack can add so much to your immersion in a drama. But what if you don't have a cinematic sound system at home? We set out to pilot a new audio experience which brings the benefits of 3D surround sound to anyone with a pair of headphones.
Using an experimental production process developed by BBC Research & Development, we have remixed the soundtrack to A Midsummer Night's Dream using a technique known as binaural sound.
Try it out by listening to the clip below with headphones and compare it with your usual stereo experience. You need to make sure you have the left and right sides of the headphones the correct way around, or sounds will appear to be in the wrong place!
A pioneering partnership produced by the BBC and British Council with partners The RSC, Shakespeare's Globe, BFI, Royal Opera House and Hay Festival.

Exclusive interviews with Russell T Davies, Maxine Peake, Matt Lucas and Nonso Anozie.

From Frankie Howerd to Dawn French we delve in to the BBC archives and reveal the biggest names to have made an ass of themselves!
Oberon meets Titania (with enhanced audio for headphones)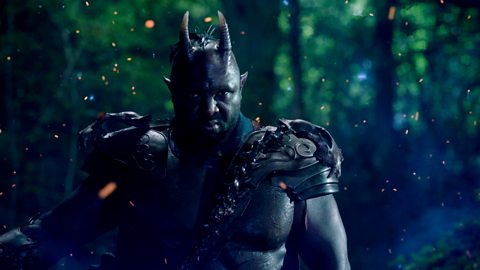 Put on your headphones to hear Shakespeare in new 3D surround sound.
People have been making binaural recordings for decades, usually using a strange looking microphone which is shaped like a dummy head with ears. It can give a very life-like representation of the sound and the direction it is coming from. But now BBC Research & Development have developed ground breaking software that can take the many sound files used in a drama, such as dialogue, music and sound effects, and apply the same binaural effect.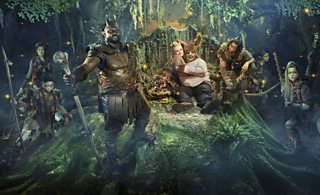 ...the impression of specific sounds being in front or behind you, putting you right in the middle of the action...
By artificially mimicking the subtle effect that the shape of your head and ears have of what you hear, we can give you the impression of specific sounds being in front or behind you, putting you right in the middle of the action. It is a step change in the quality of sound for those listening with headphones.
As Darran Clement, the Sound Engineer responsible for creating our binaural remix puts it, 'at last a way to let people hear our surround sound mix the way we hear it in the studio, without the need for acres of cables, speakers and stands in their lounge...or they could be on the bus, or in the loo, or in the garden, or wherever today's mobile generations like to consume their favourite TV programmes'.
We believe this is the very first time this has be tried for a feature length TV drama, and it helps capture the big bold sound of the orchestral score while letting the dialogue stand out with greater clarity. This was the perfect test case, in the words of Nikki Wilson the programme's Producer, 'A Midsummer Night's Dream has such a rich and detailed soundscape, I was impressed by how this was enhanced by the binaural version. I hope viewers who tune into the Red Button enjoy the experience.'
You can watch the whole of A Midsummer Night's Dream with enhanced audio for headphones on BBC Red Button on Monday 30 May, 8:25pm-11:30pm.
Written by Robin Moore, Head of Innovation and Connected Studio at BBC Wales.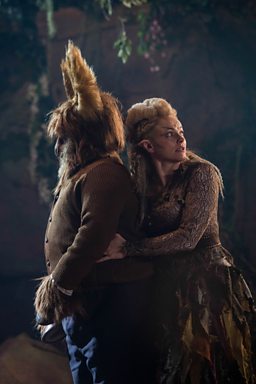 Matt Lucas as Bottom and Maxine Peake as Titania.