Main content
Five game-changing cameras that turned us into photographers
20 March 2017
With two billion photographs now being uploaded daily, how did a technically complex pastime, once the preserve of the wealthy, become our most democratic art form? GIL PASTERNAK of De Montfort University presents the five cameras that turned us into a planet of photographers.
1. The Kodak 'Box' Brownie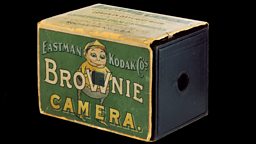 Kodak Brownie box camera with original cardboard packaging, 1900 | Getty Images
Kodak Brownies – in particular the Reflex, 127, and 44A models - were the most widely used cameras in British households after the Second World War.
The Brownie democratised photography simply through the sheer volume of sales

Dr Michael Pritchard, Royal Photographic Society
Kodak produced the first Brownie in 1900, modelling it on the luxurious 1888 Kodak box camera that gave the company its name. Made of inexpensive materials such as cardboard, the handheld Brownies were affordable and easy to use.
Virtually anyone could now capture, collect and organise the visual story of their lives for the first time in human history. With Brownies in hand, British families began snapping their celebrations, special moments and daily life on a regular basis.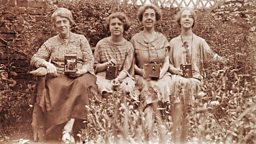 A group of women with 'Box' Brownies, 1905 | Getty Images
A collection of 'Box' Brownies | Getty Images
Facts and figures
First released: 1900
Box Brownie No.1 in February 1900, followed by dozens of models over the next 80 years or so.
Manufacturer: Kodak Eastman
Inventor: Frank A. Brownell
Appearance: A cardboard box with a wooden end
Cost: $1 / 5 shillings in UK
The camera, a roll of film and processing came in at under 10 shillings in total
Picture: Square, 2 1/4" X 2 1/4"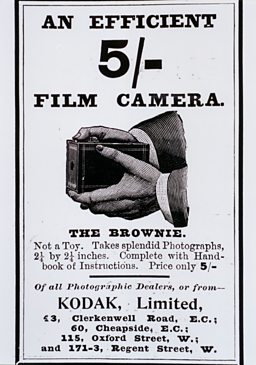 Advertisement for a Kodak Brownie camera, c 1900 | Getty Images
2. Kodak Instamatic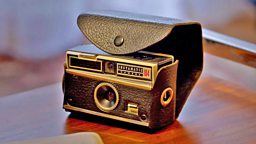 A Kodak Instamatic 104
The Instamatic addressed the challenges faced by photographers when loading and unloading roll-films, which if carried out incorrectly could render film unusable.
The Instamatic's many innovations turned it into one of the most extensively sold cameras of the 20th century
The Instamatic's design incorporated the Kodakpak, a plastic film cartridge of asymmetrical design that simply could not be loaded incorrectly. Many models also featured an automatic exposure function and a built-in flash unit.
The Instamatic's many innovations turned it into one of the most extensively sold cameras of the 20th century. Its relatively small dimensions often led people to carry it wherever they went, and capture immediate pictures of the fleeting moments they encountered on their journeys.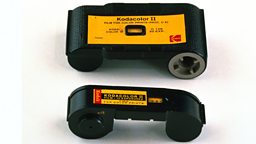 Slot-in film cartridges | Getty Images
Facts and figures
First released: 1963
Manufacturer: Kodak
Designer: Frank A. Zagara
Appearance: Shiny and rectangular
Cost: $15.95
Impact: More than 50 million Instamatic cameras were produced between 1963 and 1970, primarily in the US, Germany and the UK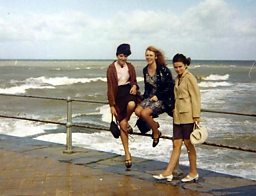 Three friends photographed with an Instamatic, 1966 | Photo by Jenny Bowden
3. Polaroid Land Camera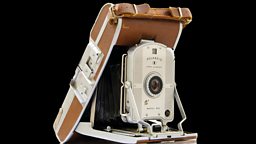 A vintage Polaroid Land Model 95A instant camera, 1954–1957 | Getty Images
In 1947 Polaroid introduced an instant photographic process, which allowed pictures to be ready within seconds.
Polaroid cameras encouraged the production of more intimate and candid pictures
However, it was 1977 by the time the inexpensive and fully automatic Polaroid OneStep Land model made the instant Polaroid picture integral to family photography.
With a Polaroid it was no longer necessary to expose more than one image, or to wait for the pictures to return from the lab before seeing the results.
By giving users full control over the handling of their photographs, Polaroid cameras encouraged the production of more intimate and candid pictures as it was no longer necessary to put them into the hands of strangers for processing.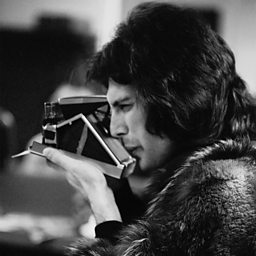 Freddie Mercury takes a Polaroid picture, c. 1977 | Getty Images
Facts and figures
Introduced: Polaroid Land Camera Model 95 was first made commercially available in November 1948
Manufacturer: Polaroid
Inventor: Edwin H. Land
Cost: $89.75
Impact: Model 95 sales were $5 million in its first year. By 1983, the firm had $1.3 billion annual sales and 13,000 employees.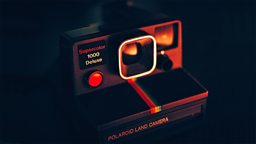 Polaroid Supercolour 1000 Deluxe, from Polaroid's heyday in the 1980s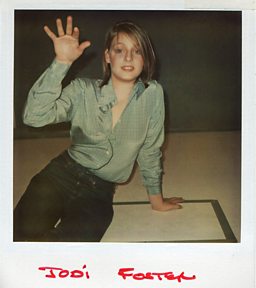 Jodie Foster captured on a Polaroid | Getty Images
4. Digital Cameras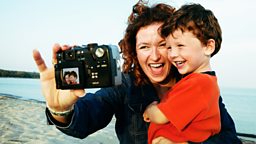 Digital: Bringing the photographic process home
Digital cameras already existed in the late 1970s but were only broadly commercialised in the mid 1990s. Considered to be the norm in our time, digital technology enables us to capture and immediately explore huge numbers of photographs at virtually no cost.
Digital cameras also make it possible to apply instant corrections in viewpoint, exposure and focus. Making it easy to use a domestic computer to enhance image quality, crop pictures, and adapt their size, digital cameras bring the full photographic process home.
Families now tell their life stories through homemade digital slideshows and also by photo collages made with domestic printers.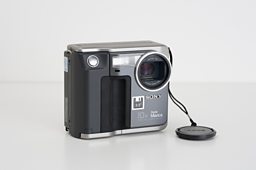 Sony Mavica FD7, 1997, a descendent of the original prototype | Getty Images
Facts and figures
Introduced: The prototype Sony Mavica, which recorded images onto a floppy disk, was first demonstrated in 1981. It wasn't a true digital camera, as it converted analogue signals for display on TV screens. Sony, as well as Casio, Nikon, Canon, Kodak and Apple, released digital cameras for the consumer-level market from 1994-7 that connected with a home computer via a serial cable.
Cost: The first professional digital camera system, released in 1991 by Kodak, sold for £18,750. This modified Nikon F-3 camera with a 1.3 megapixel sensor was aimed at photojournalists. Canon's PowerShot 600, the first consumer digital camera compatible with hard disk drives, sold for £590 in 1996.
Standards and software: Adobe Photoshop 1.0 was released in 1990. The Joint Photographic Experts Group agreed the JPEG standard in 1994.
5. Mobile phone cameras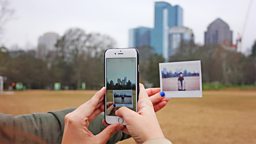 A smartphone in action
The incorporation of photographic technology into mobile phones in the early 2000s massively increased the number of cameras around us. People could access a camera effortlessly, and individuals commonly take pictures of unexpected incidents and mundane activities alike.
Plugging photography into the internet, the introduction of the smartphone turned the online sharing of such pictures into a social convention. In this reality, photographs cease to allude to memories of the past, affecting the experiences of the present instead.
They help us become absorbed in each other's lives and feel like participants in the realities of friends and family, albeit temporarily and sometimes when separated by great distance.
Dr Gil Pasternak of the Photographic History Research Centre at De Montfort University in Leicester is academic consultant for Smile! The Nation's Family Album, part of BBC Four's Photography season.
BBC News: The Japanese craze for taking pictures with your phone (June 2001; great comments on this article)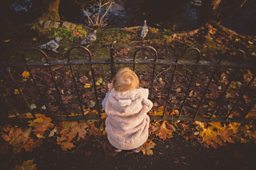 Capturing a moment with a smartphone


Panoramic photographs
Facts and figures
Introduced: Samsung's SCH-V200 was released in South Korea in June, 2000. Its built-in digital camera could take 20 photos at 0.35 megapixels resolution, although it wasn't truly integrated with the phone - more a phone with a camera attached. Sharp's J-SH04, released only in Japan (November 2000), was the world's first mobile phone to have an integrated digital camera. It was 0.11 mega pixel and featured a 256 colour display.
Cost: The SCH-V200 retailed at $400 and the J-SH04 was $500.
Impact: By the end of 2003, 80 million camera phones had already been sold worldwide. The first 2 Megapixel camera phone, Nokia's N90, arrived in 2005, and in early 2007 the feature phone's progress peaked with Nokia's 5MP N95.
Smartphones: The drive by manufacturers to produce slim, attractive devices stalled the development of camera phones - the original iPhone in 2007 had a 2 Megapixel camera with no flash or auto-focus and no video recording capability.
Software: As smartphone technology caught up and high-end cameras became standard, manufacturers turned to software to help sell phones - Google's Photo Sphere, Panorama mode from Apple and BlackBerry's Time Shift made photography about more than a single still image.
Peak Megapixels?: After being wiped out by Android and iOS devices, Nokia has recently returned to the consumer smartphone market. Its Lumia 1020 has a 41-megapixel camera.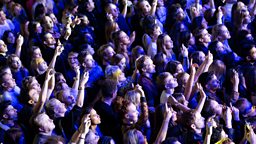 Camera phones at Sheperd's Bush Empire gig, London, 2014 | Getty Images
Photography season on BBC iPlayer
From iconic moments of World War One to the polarising work of Martin Parr... take the quiz.

Britain in Focus presenter Eamonn McCabe on the football match where everything changed

Photographer Dennis Morris on capturing the punky reggae party in the late 1970s