Main content
Lauren Riley
Lauren was fired after week seven's advertising task in New York. After losing out on the project manager role to Mark, she struggled to find her voice in the Big Apple. Back in the board room, Lord Sugar accused her of 'standing back' and he ultimately went with his gut feeling and fired her. A shocked Lauren cited Daniel and Mark's tactical game playing as the cause of her exit from the process.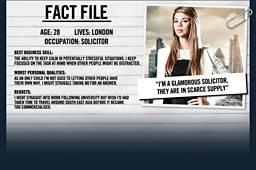 About Lauren
Only child Lauren is a family solicitor, specialising in family law including divorce, separation, finances and property, with a focus on achieving fair outcomes for her clients. She can keep a cool head in a stressful situations (when others may waver and lose focus), but she struggles with taking no for an answer and letting others have their own way.
She says she is outgoing and ambitious, and wishes she had had the idea for Facebook, as it has achieved phenomenal success with a fun concept that has provided entertainment to users across the world. She also regrets having not travelled around South East Asia 'before it came too commercialised' - a sacrifice she made by heading into work straight after graduating from university.