Main content
Knitted Knockers are the People's Choice
21 May 2015
A group of volunteer knitters who make cotton artificial breasts for women who have had mastectomies has won an award in recognition of its charity work. Knitted Knockers UK claimed this year's People's Choice Epic Award, chosen by a public vote on Facebook. The group is made up of around 650 knitters, crocheters and supporters and last year alone made more than 2,000 prostheses, supplying them free of charge to 800 women.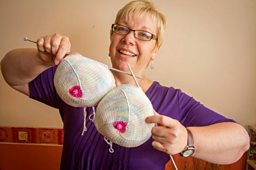 Knitted Knockers UK member Kay Coombes
One recipient, Alison, wrote a public thank you to the volunteers on the Epic Awards website: 'These lovely ladies hand-make beautiful, soft, colourful breasts to replace the ones that have tried to kill us. They make them with so much love that when you receive your knitted knocker in the post it just oozes love and kindness. Thank you lovely ladies.'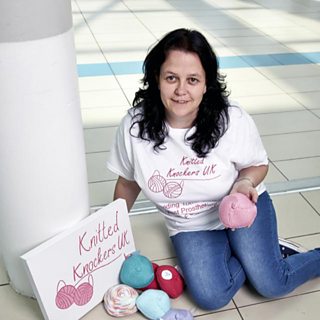 Joanna Dervisoglu
The UK group started two years ago by Joanna Dervisoglu, from Birmingham, who had knitted for the parent group in the US. She had received a request from Kay Coombes from Somerset who had had a double mastectomy after being diagnosed with breast cancer in 2011. The pair realised there was a huge need for the volunteer scheme this side of the Atlantic.
On its website it gives patterns for the so-called knockers putting volunteer knitters in touch with cancer patients who can request a prosthetic in any size or shape. At just 50 grammes the cotton false breast weighs around a fifth of those made out of silicone.
"They are lightweight, pop into your bra easily, and are comfortable on the skin," Jo said.
"It is lovely to make something personal for someone who has been through something as traumatic as breast cancer, and know you are doing something good for them."
Retired teacher Lynne Hawksworth from Southport near Liverpool is the Secretary and Treasurer of Knitted Knockers UK and first came into contact with the group after seeing them mentioned in a newsletter from a knitting company.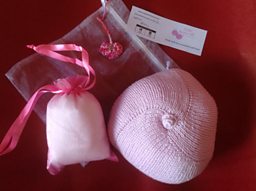 Interested in becoming a knocker knitter?
Knitted Knockers UK get hundreds of requests a year from cancer patients for the cotton prostheses. They have pledged to supply the false breasts free of charge to those who want them.
All volunteer knocker knitters are required to knit or crochet the knockers to a specific pattern which is made availalbe on the group's website. The group runs a Facebook group to support volunteer knitters and crocheters and to ensure all the knockers meet a required standard.
If you're interested in helping, visit the Knitted Knockers website.
"My original motivation was to be involved in something more challenging that knitting squares for charity blankets, and being in at the start of a new charity was also exciting. I knew very little about breast cancer, and certainly didn't realise that the mastectomy operation was just the beginning of a very long journey for the lady concerned, not the end of it," she said.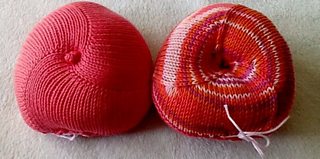 It is lovely to make something personal for someone who has been through something as traumatic as breast cancer

Joanna Dervisoglu
"Now my motivation is two-fold: one part comes from all the other ladies involved in our group. We have many days filled with laughter and some tinged with tears. It sounds trite but 'we are family'. The other part comes from the responses we get from the ladies who receive our 'made with love, filled with hope' knockers.
"If you knew that what you are a part of can make such a difference to how a lady feels about herself, and therefore to her whole life, wouldn't you be motivated?
"It's made a big difference to my life. I lost something when I retired from teaching and I didn't know what it was. This helps people and I feel useful. We help so many ladies and we've so many people that are interested in getting involved."
And Lynne said the group is thrilled with its People's Choice award: "Just to be shortlisted was amazing but to win has been fantastic. It's the first award we've won since we got started. It's been a great thing for us because it's focussed us on how far we have come since we started."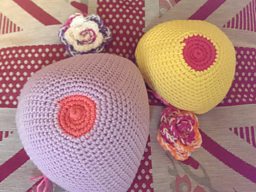 Other Epic Awards Winners 2015
Friends of the Flyover - Group created a multi-artform festival to engage local people and raise awareness of an endangered community space

Kirkcudbright Art and Crafts Trail - A volunteer-run arts and crafts trail at over 100 venues throughout Kirkcudbright, involving 200 participants

MaDCaff - An innovative volunteer-led organisation who created a pressure free performance platform for musicians and dancers who have been affected by mental illness

Crafty Corner - Cross community craft project in Derry-Londonderry to help unite people from divided communities

Kent Association for the Blind Medway Art Group - Creative group for people with sight impairments that produced a spray-paint graffiti exhibition based at Rochester Cathedral