Main content
Can a simple injection of stem cells repair damaged backs?
Surgeon Gabriel Weston travelled to Los Angeles in California to look at a clinical trial that is evaluating an injection of stem cells for treating chronic low back pain.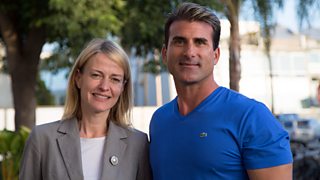 As we age, we can all expect some degree of wear and tear to affect the discs that sit between the bones of our spine, but for those who suffer serious disc degeneration the result can be intense and debilitating chronic low back pain. For many patients the only option currently available is invasive back surgery, usually spinal fusion or artificial disc replacement, is unacceptable. Surgery like this can lead to more problems in the future and there is no guarantee that it will cure the pain or improve function.
Now a new stem cell treatment is being evaluated in a Phase 3 trial in the United States which, if successful, could provide patients with an alternative to surgery.
Orthopedic surgeon Dr. Hyun Bae participated in the first trial and is also one of the investigators in the current trial evaluating the stem cell therapy. The current trial will enroll 660 patients with damaged discs and chronic low back pain. Patients will receive an injection of either of two stem cell formulations or a placebo to test whether the stem cell treatment may lead to meaningful clinical improvement. The trial is double-blinded which means that neither the patient nor the doctor will know which injection is being administered.
For this trial, specific stem cells called mesenchymal precursor cells (MPCs) are obtained from healthy donors, isolated and expanded, and are available as off -the-shelf readily available therapy. It's thought that when they are injected into the degenerated disc, they help to stimulate the discs to repair themselves.
The Phase 2 trial, which assessed the MPC treatment in 100 patients, showed that 70% of those receiving a dose of stem cells experienced a 50% reduction in their back pain after one year compared to approximately 30% of patients receiving placebo. For Dr Bae, who has been working in regenerative medicine research for 12 years, this represents important progress in the management of this disease and was the first time he had seen the treatment arm beat the placebo arm.
The Phase 3 trial is ongoing and, although results won't be known for some time, if it proves successful, it could lead to this new treatment becoming approved and available to patients worldwide.