Main content
Nine things we learned about Judi Dench
Dame Judi Dench is a true legend of stage and screen. In a career that has now spanned eight decades she has been awarded an Oscar, a Tony, two Golden Globes, eight Olivier Awards and 11 BAFTAs. She spoke to John Wilson for Front Row and these are some of the things that we learned.
1. She loves theatre over filmmaking, but still doesn't think she 'can do it'
Dame Judi recalls falling in love with the stage, first as a child in the audience taken by her theatre-loving parents, then as a performer. However, when pressed on whether there was a moment that she thought she really knew what she was doing onstage she is adamant: "No, and the time that comes that I think, 'I can do it,' I'll walk away," she says. "That's why I love the theatre above filming, because one night you'll perform in the theatre and you'll think, afterwards, 'I can do that bit better; I know that bit should be better,' or, 'I'll try that in another way.' That's the excitement of the theatre. And of course, the audience supplies an enormous amount of that to you."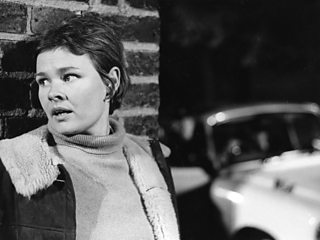 Judi Dench in BBC drama Z Cars in 1963
2. She is having her grandson test her knowledge of Shakespeare
A lifetime performing the Bard has left its mark, with swathes of Shakespeare's verse lodged in Dame Judi's brain. But she's not complacent, and is having her knowledge tested. "I recently have asked my grandson to sit with me, with a watch or something," she explains. "And he's going to say the plays, and I'm going to say as much as I know of the speeches in all of them, and then see how long that goes on for."
3. She originally wanted to be a theatre designer not an actress
"I wanted to be a designer - I only ever wanted to be at theatre designer," she says. "I went to York Art School. Also [my parents] took me to Stratford in the fifties where I saw a wonderful set of King Lear, with Michael Redgrave, and it was so sublime, the set, and so beyond any imagination I could possibly ever have for designing, that I thought then and there, I don't know if I consciously thought, but I do remember that evening very clearly."
4. She was told early on she had 'the wrong face' for film
The first time she was interviewed for a big film role in the early 1960s, a famous director told Dame Judi (who now has more Academy Award nominations than any British actress in history) that the she had "the wrong face" for films. "I was told very early on I would never make films: 'Wrong face,'" she recalls. "He said thank you very much, I don't think you should consider films." She was unfazed by it all, however. "I got up and I put the chair back against the wall, I always remember," she says. "Because I wasn't really interested in filming it didn't concern me. Had it have been in the theatre then I don't know what I would have done… I remember it but I don't think I was hurt by it."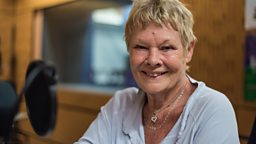 5. She was meant to be in the original production of Cats, but got injured in rehearsal
She was cast in the original stage production of Cats but lost the role after falling and ending up in plaster. "I snapped my Achilles tendon," she says. "I remember it very, very clearly indeed: it wasn't very long until we were meant to open." Elaine Paige took the role and she didn't regret missing out: "I went to see it with the family and I thought, 'Gosh, I would be tired at the end of this, if I'd done that!' I think I was rather relieved and full of admiration for everybody."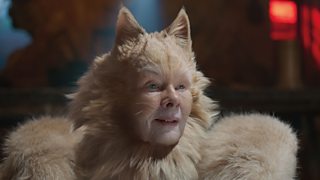 Dame Judi as Old Deuteronomy in Cats (image: Universal)
6. She was in the film version of Cats, but she hasn't seen it
"I didn't read anything about the response to it, nor have I seen it, and I've only seen a picture of myself," she says – and the picture was a surprise too. "I once had a cat like that called Carpet," she says, "I didn't realise that I was playing Carpet. I thought I was playing a really, kind of, clapped out old mangy cat who didn't have much fur and was at the end of her life. I didn't realise I was this wonderful show cat!" Informed she has been nominated for her first Golden Raspberry as Worst Supporting Actress for the role she seems amused: "Oh well: that would be rather good!"
7. She says the secret to projection in theatre is the intention not the volume
As a young actress she was given voice training and she can still make herself heard on stage. "It's not about volume; it's about intention," she explains. "It's about thinking of the man who's sitting, or the woman who's sitting, at the back of the upper circle. They must hear the play. It's like a string that goes from you to the back, and it's without shouting; it's to do with energy as well."
Dame Judi receiving her 2001 BAFTA fellowship
She does remember an occasion when she thought too much about one audience member: "There was one wonderful occasion when we were doing The Comedy of Errors and I saw a lady – this is at Stratford –I saw a lady sitting with a head down in about the third row. And so I said to the company: 'Look, she looks so sad, let's really do it for her.' Well I can only tell you she left at the interval. She didn't care for projection much."
8. Her eyesight is failing but she is upbeat about it
Dame Judi suffers from age-related macular degeneration, but she finds ways to keep working. "It's not like suddenly going blind in one go. You do it gradually, so gradually you somehow find a way of learning. As long as it doesn't get in the way of somebody seeing you in something and thinking, 'I wonder how she's managing?'" she says. "That that would be appalling!" On set and onstage she has great help to know where everything is. "The most difficult thing is that I cut people dead all the time because I can't see them," she says. "That for me is terribly distressing because I can just walk straight past somebody I know very, very well indeed, and I simply haven't been able to see who they are."
9. She loved playing M in the Bond movies but didn't cry when told she'd be killed off
Dench played M in the James Bond films eight times and though she says, "I loved it!" However she denies reports she was distraught when the role came to an end. She was told of M's fate during a meeting with Bond producer Barbara Broccoli and star Daniel Craig at a glamorous London lunch: "They said, 'This is the chop for M,' and something was reported that I cried. I didn't cry at all! I don't know where it was written, that, but somebody said. It's not true. No, I thought I'd had a good innings!"
More from Front Row...
Jeremy Deller, Jasmine Lee-Jones, Richard Armitage and more on their biggest risk.