Main content
How We Made Serengeti
by Series Director John Downer
Serengeti is a dramatised Natural History series based on the behaviour of the animals that live in this region of east Africa.

As the series is dramatised, we decided to have memorable and appropriate names to identify our animal characters. The prime language of the Serengeti region is Swahili so it felt appropriate to use local names that had meaning. We chose these names based on the character of the animals involved.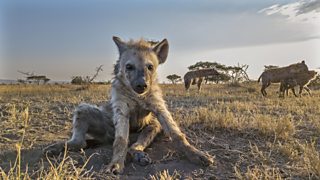 The named characters aren't always the same animal every time we see them. Sometimes they are the same individual throughout but the more complex storylines are enhanced by behaviour captured of similar animals facing the same real-life challenges. By using composite animals, united by the same name, it is possible to tell a comprehensive drama showing all the trials, disappointments and triumphs these species face. This dramatised account aims to present a complete picture of an animal's life that would be difficult to show any other way.
The series was shot using many innovative camera techniques designed to immerse the audience in the action. These sophisticated filming techniques allowed the cameras to travel with animals wherever they went. The series makes extensive use of new developments in stabilised camera systems, drones and also "Spy" camera techniques.
At the heart of these immersive techniques is the time the film crews spent with the animals. Ultimately, the crew and cameras effectively became invisible to their subjects - often the cameras were just a whisker away while the animals carried out their normal behaviour.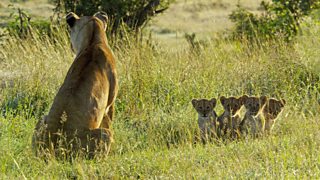 The events featured were often covered on multiple cameras providing different viewpoints of the animal world. At times, the specially shot animal behavior has been enhanced by previously shot material, to build a clear and dramatic narrative that reflects the lives of the animals of the Serengeti. No animals were created using CGI but occasionally compositing techniques, which combine real footage, have been used to help the narrative and the dramatic flow of scenes.
The series' dramatic style creates an opportunity to tell a compelling story that presents a rounded, comprehensive and empathetic view of the animals that make up the Serengeti ecosystem. It highlights the interconnected nature of their lives and how one event impacts on the lives of others. With intimate in-the-animal-world photography and the use of dramatised storytelling techniques it has been possible to explore the emotional bonds that tie families together and the fears, ambitions and motivations that drive their behaviour.