Main content
Michael's Theme by Kathryn Elkin
Artists' Moving Image at the BBC
About the film
Michael's Theme uses previously unbroadcast fragments from the opening and closing of several episodes in the first two series of Parkinson from the 1970's.
The work explores the talk-show convention of revealing the mechanisms of television-making, as well as the notion of improvisation within the 'recorded-as-live' TV format and within the repeated live renditions of the jazz theme tune in those earlier episodes.
These excerpts and the theme tune for the programme are used as a point of departure to consider the relationship of a live studio audience, crew and talk show host each to other, and how their complicit relationship anticipates the audience who will watch the deferred broadcast.
Kathyrn Elkin, 2014
More about the artist
Kathryn Elkin works predominantly in performance, video and writing.
She is a graduate of Glasgow School of Art, Goldsmiths College and participated in the LUX Associate Artists Programme 2012/13.
Elkin's work concerns a comparison of the way in which we experience art to the ways and means it is understood culturally.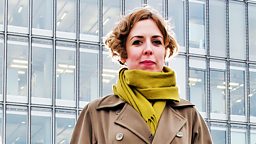 Artists' Moving Image at the BBC
What are the results when artists specialising in the moving image are given the freedom to explore, manipulate and create from the vast BBC film archive?